2 worshippers shot to death outside Chicago church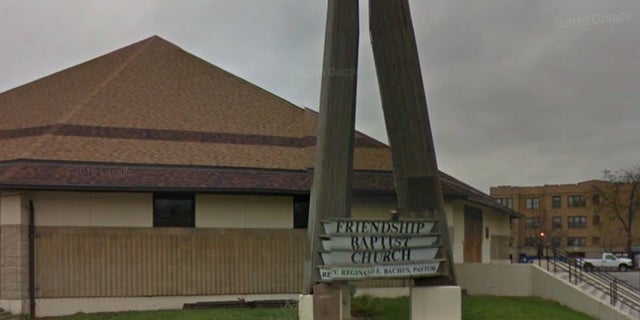 The murder epidemic in Chicago extended to a house of worship on Sunday, as two parishioners were shot and killed outside a church as a service was about to begin.
Emmanuel Fleming, 34, and Michael Swift, 46, were shot and killed walking up the stairs to the Friendship Baptist Church in South Austin, Chicago CBS reported.
Fleming, a church usher who was entering the church with his three young children, yelled at his kids to take cover when the shooting began, according to the Chicago Tribune.
MEMBER OF CANNIBALISTIC CHICAGO 'RIPPER CREW' TO BE RELEASED IN SEPTEMBER
The three children made it safely into the church, but Fleming and Swift were shot and killed by two men who had bandannas covering their faces.
"They were on their way up the steps to the church, and two gentlemen ran up from Jackson [Boulevard] and basically unloaded on them," Rev. Reginald Bachus told the Chicago Tribune. "It's just hard for me to believe that something like this could happen on a Sunday morning."
He added: "Two young men on their way to church...I think that's the hardest part for me to grasp."
"It's a shame the kids know how to hit the floor like that, but it's a good thing they did."
The murders of Fleming and Swift come as Chicago is on pace to surpass its record 2016 total of 781 homicides. The city had already passed 400 homicides with a week to go in July.
Witnesses said the service was beginning when Fleming's children burst into the church and yelled: "I want my dad!"
"The pastor was just about to get up and we heard about seven shots — bang-bang-bang bang," a church member, who did not want to be identified, told the Chicago Tribune. "Everyone hit the floor, even the kids. It's a shame the kids know how to hit the floor like that, but it's a good thing they did."
The two gunmen, who witnesses said emerged from a gas station across the street from the church before opening fire, escaped in a gray or silver SUV.
Deputy Al Nagode of the Chicago Police Department said authorities were investigating. The police did not immediately say what the motive may have been.
$393 MEGA MILLIONS WINNING TICKET SOLD IN CHICAGO SUBURB
"We are extremely close with our faith-based organizations over there," Nagode said. "It certainly is a troubled area, and we dedicate a tremendous amount of resources to it...in an attempt to help the community out in any way we can."