2 Ohio fugitives wanted for murder arrested after New Mexico officer killed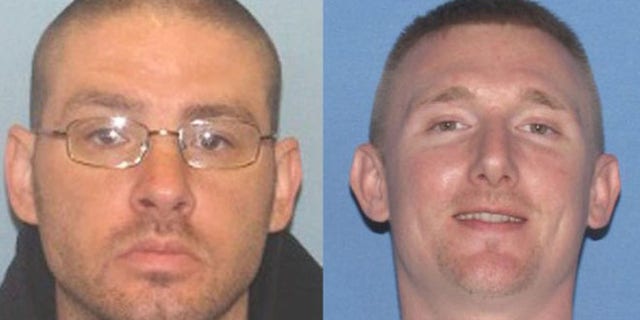 Two Ohio fugitives wanted for a murder have been arrested after authorities say one of them fatally shot a New Mexico police officer.
Dona Ana County Sheriff's spokeswoman Kelly Jameson said Saturday that 38-year-old Jesse Hanes is suspected of gunning down Hatch Police Officer Jose Chavez during a traffic stop Friday.
Hanes fled and is suspected of carjacking a man at a rest stop before shooting him in the stomach. The man's condition is unknown.
Police said Hanes was with James Nelson, 36, who are both wanted in Ohio in the July 25 shooting death of a 62-year-old man in his home. A third person in the car was a hitchhiker and is being treated as a witness.
Chavez, a 33-year-old officer who had been a member of the Hatch Police Department for two years, was shot in the neck. He had a wife and two children, KVIA-TV reported.
Authorities say the confrontation began when Chavez pulled over Hanes, who was reportedly driving a 1991 Lexus, in the village of Hatch, about 40 miles northwest of Las Cruces.
As another officer arrived on the scene to assist Chavez, authorities said Hanes got out of the Lexus and opened fire.
"From traffic stop to the shooting took less than a minute," Jameson told FoxNews.com.
The other officer saw Chavez holding paperwork and reaching for his service weapon before he was shot and fell to the ground.
Hanes then fled on Interstate 25 at speeds up to 100 miles per hour before stopping at a rest stop and carjacking a man, authorities said.
Authorities said deputies pursued Hanes after spotting him in the carjacked vehicle.
The chase ended when the car crashed into a pile of wood. Police had deployed "stop sticks" to flatten the tires.
Hanes briefly barricaded himself in the car before surrendering.
Deputies found he was suffering from a gunshot wound to the thigh. They believe Hanes shot himself, KRQE-TV reported. He was taken to a hospital for treatment.
Nelson was apprehended after he tried to flee on foot.
The Chillicothe Gazette in Ohio reported Saturday that Hanes and Nelson wanted in the killing of killing Theodore Timmons in Londonderry, Ohio.
The paper reported that three days after the murder the Ross County Sheriff's Office in Ohio sent out a bulletin saying that Hanes and Nelson, were believed to have fled the state and were armed and extremely dangerous. It warned that the two men have a violent criminal history.
Hanes was 16 and living in Columbus when he pleaded guilty in 1995 to involuntary manslaughter and other charges. He was sentenced to prison and released at 32. He went to prison again in 2014 after pleading guilty to robbery and was released in April 2015.
Nelson, who also goes by "JD," has a string of drug-related convictions in central Ohio dating back to the mid-1990s.
The Associated Press and Fox News' Joseph J. Kolb contributed to this report.