2 officers dead after police helicopter crashes in Atlanta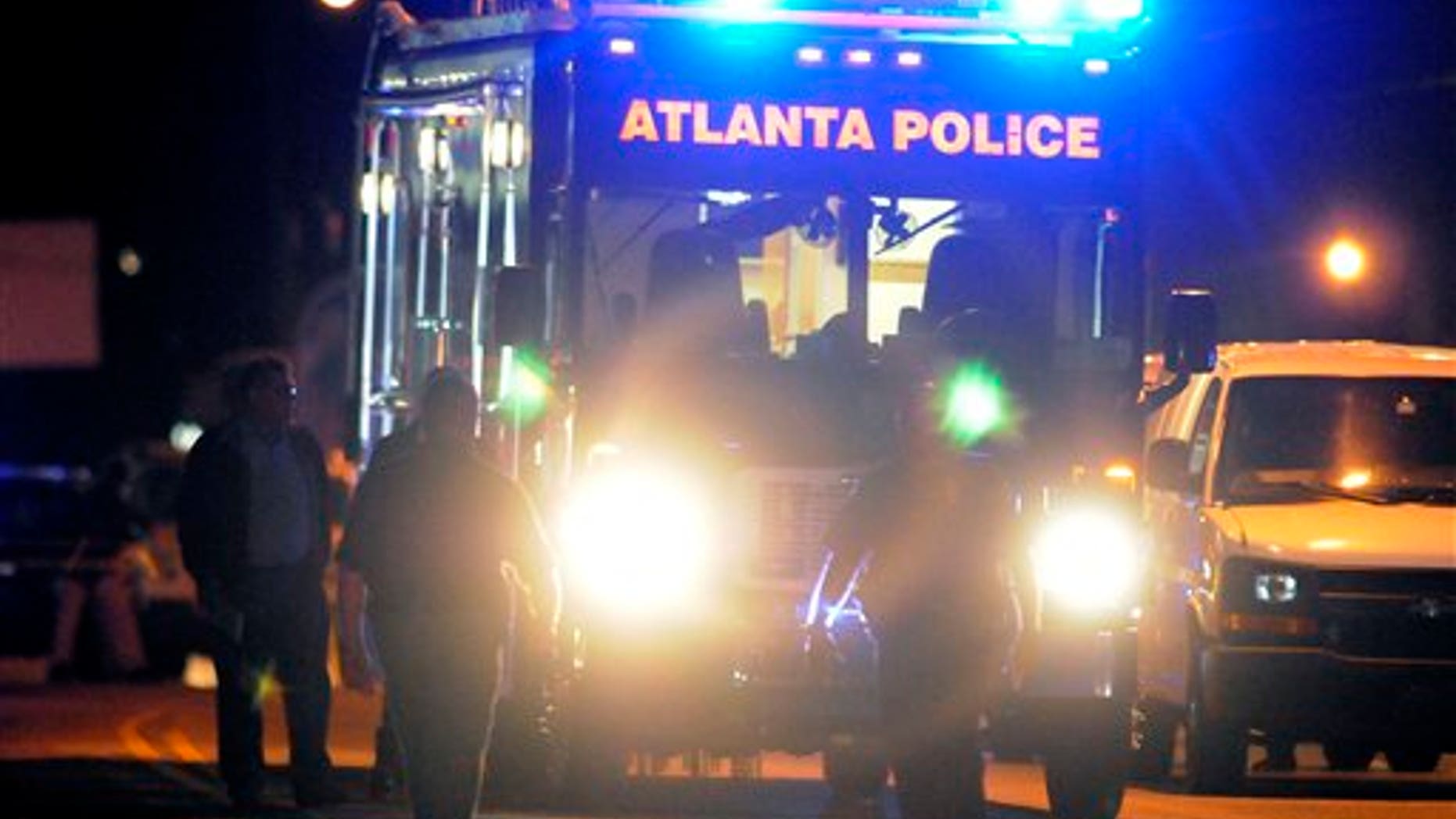 A police helicopter flying low over Atlanta on a nighttime search for a missing 9-year-old boy plunged to the ground in a northwest city neighborhood of shops, stores and apartments, instantly killing the two officers aboard, authorities said Sunday.
Both officers died on impact in the crash about 10:30 p.m. Saturday and no one was hurt on the ground, police spokesman Carlos Campos said. The crash occurred in an Atlanta district close to busy Interstate 20, a light rail commuter station and a mixed area of fast food restaurants, shopping plazas and apartments where utility lines bristle overhead.
A photograph aired on a local TV newscast afterward showed what appeared to be flaming debris in a roadway. Police said the helicopter fell near a major intersection about 4 miles west of downtown Atlanta. Power was blacked out to a nearby pharmacy and other businesses close to the crash site and a utility crew was summoned, apparently to restore electricity.
"It appeared to hit the utility wire on the way down," Campos told AP, citing preliminary information. But he emphasized: "We don't know what caused it" and referred all queries to the Federal Aviation Administration, which was just opening its investigation.
Bystander Darryl James, 42, told The Associated Press that he had gone with a companion to a check-cashing store Saturday night when he heard the helicopter flying overhead and thought it was rather low.
"The tail end went down and then there was an explosion," James said. He said he tried to get close to the wreckage. "As soon as I got close enough to it, poom! It exploded." He added of the helicopter's occupants: "They could not survive it."
James said people are often waiting at a normally busy bus stop near the crash site, adding "Thank God nobody was out there."
After the crash, fire trucks and police cars with their lights flashing converged on the area, blocking off roads all around. Police put up yellow crime scene tape and kept bystanders so far back they were unable to see the site obscured by a small rise. The names of the dead were being withheld while relatives were notified, police said, adding the Atlanta force had been plunged into mourning.
"Losing an officer is the most difficult thing a police chief can face," Atlanta Police Chief George Turner said in a statement. "Losing two is an unthinkable tragedy. Our hearts go out to the families of these officers and our thoughts and prayers are with them."
He called it a difficult day for the Atlanta force and "a reminder of their bravery and the sacrifices made by our officers every day."
Police said the helicopter was called in to join the search after police received a report shortly after 9 p.m. of a missing child. Campos said the boy was later found unharmed but he had no details on that search.
Kathleen Bergen, a spokeswoman for the Federal Aviation Administration, told AP by email that the FAA was investigating and the National Transportation Safety Board would also be involved, seeking to determine the cause.
Kathleen Bergen, a spokeswoman for the Federal Aviation Administration, confirmed in an email to AP that the FAA investigation was beginning but she didn't know the type of helicopter involved yet. She said the National Transportation Safety Board would be joining in the investigation, seeking to pinpoint the cause of the crash.
Atlanta Mayor Kasim Reed also said early Sunday that he was saddened by what he called a "terrible accident."
"We mourn these two brave men and offer our deepest condolences to their families and loved ones," Reed said in a statement. "We also pause to extend our sympathy to the men and women of the police department who place their lives in harm's way every day to keep our city safe, and who especially feel the pain of this loss."
Authorities said the names and photographs of the two officers would eventually be released.
Early Sunday, about 20 people still watched the investigation hours after the crash. Among them was Rodney Christian, 22.
"It's sad. It's tragic ... for someone to lose their lives trying to find a kid, trying to keep another family together," Christian told AP.
He added that he has a 1-month-old baby at home and was shaken just by the thought of the events Saturday night.
"It makes me want to rush home and get back to my kid."