2 men arrested in shooting death of police officer in Topeka, Kansas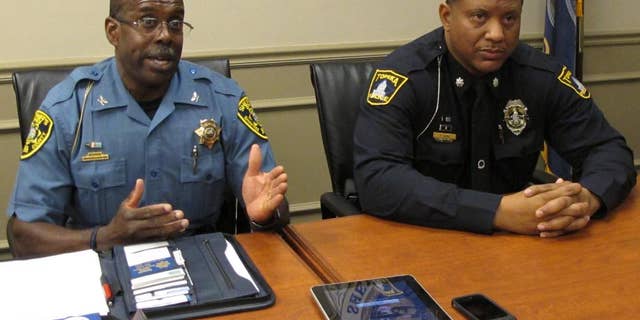 TOPEKA, Kan. – Authorities have arrested two men in connection with the fatal shooting of a Kansas police officer.
Topeka Police Cpl. Jason Harwood was killed Sunday during a car stop in east Topeka.
The Shawnee County Sheriff's Office says a 30-year-old man taken into custody on Sunday has acknowledged some involvement in the shooting of the 40-year-old decorated law enforcement officer.
The sheriff's office, which is handling the investigation into Harwood's death, says a second man whom they believe might have information on the shooting was booked into the county jail Monday.
Gov. Sam Brownback ordered flags in Shawnee County to be flown at half-staff Monday and Tuesday to honor Harwood, a 15-year police veteran who leaves behind a wife and two children.