2 in critical condition after NYC-bound commuter bus crashes into school bus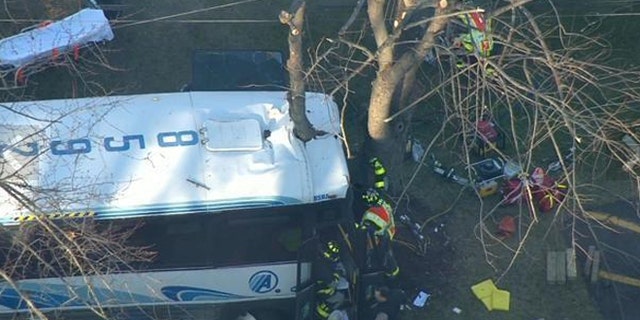 NEWYou can now listen to Fox News articles!
Two of at least 17 people injured in a crash involving a commuter bus and a mini school bus in New Jersey are in critical condition.
A 42-year-old man and a 31-year-old woman are being treated in the trauma unit at Robert Wood Johnson hospital. The others are in stable condition at Raritan Bay Medical Center.
An Old Bridge school official says no students were on the smaller school bus, which landed on its side.
Academy Bus spokesman Joe Orlando says its bus was headed to Wall Street in New York from Toms River. It had four more stops.
A N.J. State Police Med-Evac helicopter was called to the scene to transport one passenger to a hospital. Several passengers were placed on stretchers while others walked away from the scene with assistance from emergency personnel.
Orlando says the bus can carry as many as 55 passengers.
Click for more from MyFoxNY.com
The Associated Press contributed to this report