16-foot, 3,500-pound great white shark spotted again off Jersey Shore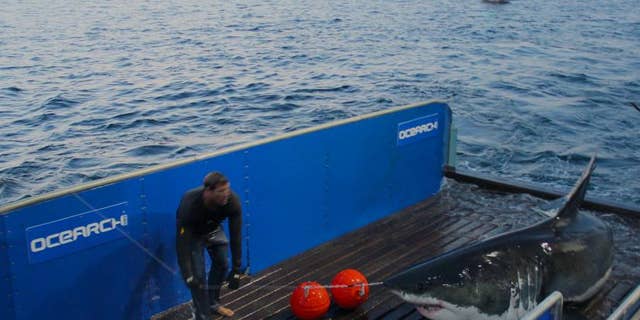 NEWYou can now listen to Fox News articles!
The Jersey Shore's most celebrated guest made a spring return on Friday. And, no, it's not Snooki.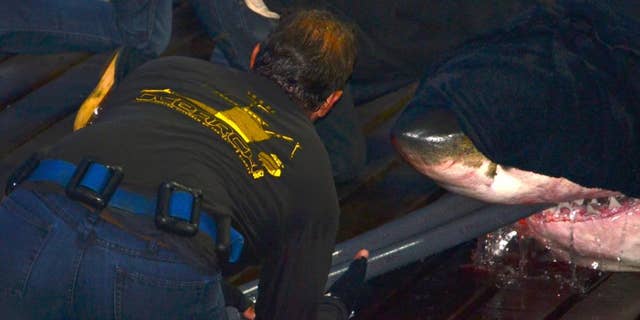 Mary Lee, a 3,500-pound great white shark was spotted about 40 miles off the Atlantic City coast, the first time the shark has been seen in the area in six months, NJ.com reported. Mary Lee's first New Jersey trip came in May 2015, and she returned several times during the fall and winter, the Press of Atlantic City reported.
The 16-foot shark's movements are tracked by a device placed on her fin by research group OCEARCH in September 2012 in the waters around Cape Cod. Each time Mary Lee surfaces above water, the electronic device emits a signal that indicates her location. She's travelled more than 34,000 miles – typically near the coastline between Florida and Maine – since the tracker was placed, NJ.com reported.
Mary Lee transformed into a social media star after a Wilmington, NC reporter began operating a Twitter account, @MaryLeeTheShark, devoted to the enormous fish. That account now has nearly 93,000 followers.
The shark got her name from OCEARCH expedition leader Chris Fischer's mom, the group's website said.
"I was waiting and waiting for a special shark to name after her and this is truly the most historic and legendary fish I have ever been a part of, and it set the tone for Cape Cod," Chris said.