15-pound pet pig Spam 'pignapped' during break-in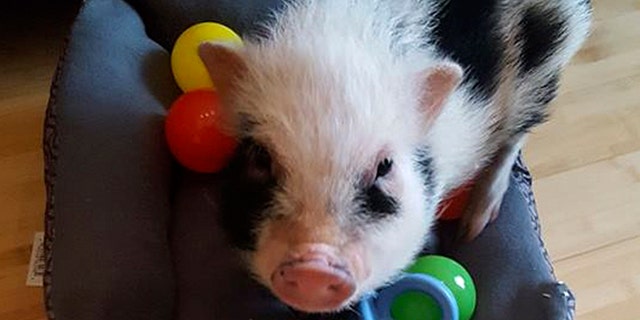 Cleveland police are looking for Spam.
The ironically-named 15-pound mini pet pig was taken during a home break-in Monday, officials said.
"It's just sad somebody would do this," owner Valerie Couch told News 5 Cleveland. "My guess is they just want to sell him and make money. But you know. He's part of our family. Keep the electronics, but don't take somebody's pet."
She said she has owned the 1-year-old mini pig since he was just a piglet.
"He's a spitfire, so he's probably driving somebody crazy right now," Couch said. "So just bring him back to his home where we can take care of him the right way."
Couch's dog and cat were left safely inside the home.
Couch posted about the theft on Facebook.
Police said they are investigating the incident, adding the thief entered via a back window that had been popped open and removed. Jewelry, TVs and a camera were also stolen.
Couch said on Facebook a neighbor told police she saw an unfamiliar tall, thin man – aged 18 to 21 – exit a black two-door vehicle that was backed in front of their home.