15 emerge from Mississippi house, but police unsure anyone held hostage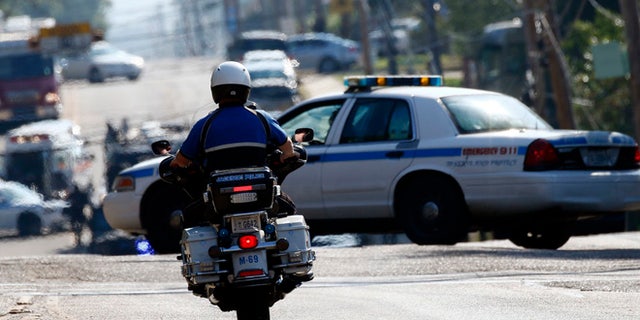 NEWYou can now listen to Fox News articles!
JACKSON, Miss. – Police now say they are trying to figure out whether anyone was ever held hostage in a Mississippi house where they'd earlier believed a man was holding more than a dozen people.
Jackson Police Chief Lee Vance called the situation "bizarre" in a news conference after the six-hour incident ended.
Authorities believed a suspect remained inside after most or all of the people they believed were hostages emerged without injury. Vance said then that police would wait him out. But officers then determined that all the people emerging from the building said they had not been held hostage after all.
When officers went in, they found two people asleep and at least two more in the attic, Vance said. One man was apparently hiding up there in fear of arrest for unpaid traffic tickets.
Police also found two rifles, a handgun, a small amount of PCP and another drug. Police aren't sure who they belong to.
"We will figure out whether we need to arrest anybody through the investigative process," Vance said.
Authorities received a call around 5 a.m. from someone inside saying they were being held hostage. When police arrived, someone inside saw the police and slammed the door.
"We got a report of a situation that equates to a kidnapping," Vance said. "That individual gave us a name as to who was doing that."
All told, Vance said 15 people came out of the house over the course of the standoff.
The chief said some of them may have been lying to police, and it's the original caller might face a charge of filing a false report.
"We can't just say halfway into it this looks like a hoax and pack up and go," Vance said, explaining that police had a duty to take the situation seriously. A major street was blocked off and students were held inside two nearby schools for their safety.
Shortly after law enforcement left, some people milling around the rundown wood frame house refused to talk to reporters. Some were taking their belongings and leaving, while another complained that his belongings had been given to a woman he didn't know.