101st Returns Home From Liberia and Ebola Mission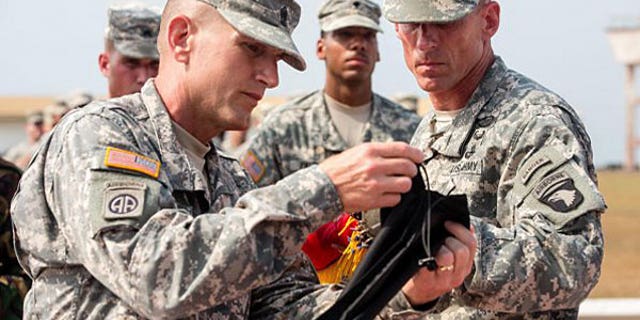 A small number of U.S. troops will remain in Liberia to build on major gains in combating the Ebola virus following the return of more than 1,000 troops from the 101st Airborne Division, the Pentagon said Friday.
The 101st ended its mission in Liberia, where Ebola cases and transmission rates have fallen dramatically since the first U.S. servicemembers deployed to the country to fight the disease in September. Members of the 101st were expected to return to the U.S. in April.
The returning troops will have to undergo a 21-day "controlled monitoring," or quarantine, period before they will be allowed contact with their families and others, said Rear Adm. John Kirby, the Pentagon press secretary.
Kirby said about 100 people, consisting of American troops, civilians and contractors, will remain in Liberia after April to provide engineering, medical training and facilities support in the continuing effort to contain the virus. In January, the Pentagon put the cost of the U.S. military's work in Liberia at nearly $400 million.
Earlier, Liberian President Ellen Johnson Sirleaf was welcomed by an honor cordon at the Pentagon and met with Defense Secretary Aston Carter to thank the military for its efforts in her country.
History's worst Ebola epidemic began in West Africa early last year, hitting hardest in Liberia, Sierra Leone and Guinea.
At one point, the Centers for Disease Control projected that the region could have 1.6 million Ebola cases by mid-January, but the efforts of local governments backed by the U.S. military, the U.S. Agency for International Development, the World Health Organization and a range of non-governmental organizations, including Doctors Without Borders, combined to contain the virus.
Through Feb. 25, the CDC reported a total of 23,825 cases of Ebola in West Africa and 14,263 deaths.
In Sierra Leone, the CDC reported steep declines in case incidents while also warning that transmission remains widespread. Guinea also had declines in case incidents, the CDC said, and in Liberia "transmission continues at very low levels, with only one new case reported in the week up to February 22."
Sirleaf met with President Obama at the White House, and both pledged continued work to bring reports of new Ebola cases down to zero.
"Our job is not yet done, and neighboring countries like Guinea and Sierra Leone are still somewhat behind the progress that's been made in Liberia," Obama said.
Obama singled out "our men and women in uniform who helped to set up the logistical capacity to absorb additional aid and health workers from around the world, and our ability to set up labs and provide technical assistance."
"We know that there was fear in this country" that the virus would spread, Sirleaf said, "and we understood that because we were fearful ourselves."
Sirleaf also took note of critics of the U.S. military effort in Liberia.
"We also thank you for the military," she said. "We know that this may not have been welcomed by many, or by some, but that made a critical difference in sending a strong message to the Liberian people that the United States was with us."
-- Richard Sisk can be reached at Richard.Sisk@military.com.