100-year-old man sets five world records at San Diego track meet
A 100-year-old Santa Clara man set five world records Sunday as temperatures climbed to 100 degrees because "Somebody had to do it."
Don Pellmann set records in the high jump, the long jump, 100-meter dash, shot put and discus during an awe-inspiring performance that lasted nearly five hours at the San Diego Senior Olympics, the Times of San Diego reported.
"It was a real struggle, but I made it," Pellmann said.
And yet the 5-11, 175-pound Pellmann, who maintains an enviable level of fitness for any age, was still focused on what he didn't achieve.
"It's a poor day because I should have got that pole vault, too," he said. "And I should have had better marks on most of these [others]. But I'm glad I got the 100 record – that's the one I wanted the most."
Pellmann, who sported a San Francisco Giants cap, had a distance of 1.78 meters in the long jump, 6.56 meters in the shot put and 14.86 meters in the discus. He reached 0.90 meters for the high jump and completed the 100-meter dash in 26.99 seconds. All were records in his age-group.
"It was a real struggle, but I made it"
Setting only five records is actually something of a senior slump for Pellmann; the athlete set seven age-group records during a two-day meet in Colorado in 2005 when he was 90, according to the Times of San Diego.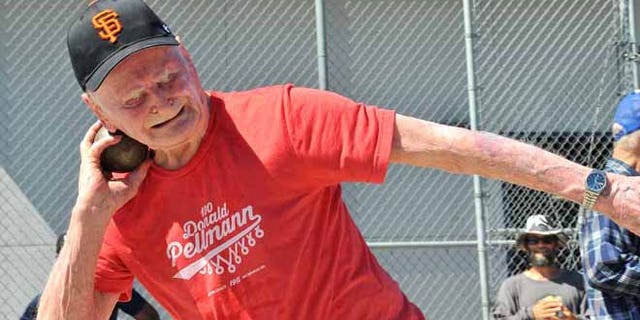 Meet director and official Gary MacDonald told the Times that Pellmann was the oldest track entrant in local Senior Olympic History.
Pellmann's standout event may have been the discus, where each of his three throws easily beat the previous age-group world record of 10.72 meters. Pellmann began with a toss of 12.47 meters before increasing that to 13.57 meters and finally 14.86. He borrowed the record-setting discus from a much younger man at the meet – only 70 years old.
Pellmann lives with his wife, Marge, at an assisted living home, according to the New York Times.
A gymnast and high jumper in college, the Wisconsin-born Pellmann quit the track team to get a job during the Depression, the New York Times reported. After retiring from his job with a General Electric subsidiary in 1970, Pellmann began entering masters track meets at the urging of one of his three children.
"I've been in 127 meets since," Pellmann told the Times.
Maybe he'll finally set that pole vault record at No. 128.