1-year-old girl among 4 apparent Brooklyn shooting victims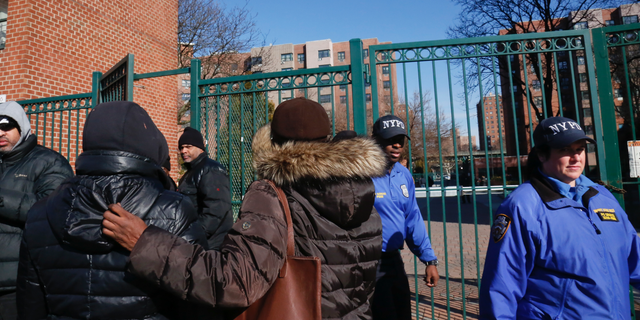 NEW YORK – The bodies of four apparent shooting victims, including a 1-year-old girl, were found in a Brooklyn apartment Wednesday, hours before students throughout New York City participated in walkouts to demand action on gun violence.
Police were trying to determine whether there were three homicides and a suicide.
"At this time, we do not have a motive for this incident. But we are working very hard to establish one," New York Police Department Deputy Chief Michael Kemper said.
Around 5 a.m., officers responding to a 911 call from a high-rise complex, the Riverdale Osborne Towers, found Loyd Drain Jr., 57, Terrance Briggs, 27, Loyd Drain III, 16, and the toddler, Laylay Briggs, in bedrooms and a bathroom of the fourth-floor apartment in the Brownsville neighborhood. All lived in the apartment and all were shot in the head.
The victims were believed to be "related, either biologically or through marriage," Kemper said.
Authorities were investigating Terrance Briggs as the possible gunman.
"In the nature of this business, we deal with death and tragic scenes. When it involves an infant, it's extremely tough," said NYPD Assistant Chief Jeffrey Maddrey. "My heart goes out to this family and the residents of Riverdale Towers and the Brownsville community."
"I feel really sad," said a neighborhood resident, Jose Valdez, as a tear streamed down his face. He remembered one of the victims, whom he called "Big Daddy," as "happy, laughing with everybody ... a good man."
Police strode purposefully into and out of the building, surrounded by scenes of an otherwise normal day in Brownsville: green and red playground equipment; a man carrying groceries; a passing elevated train; a woman on the sidewalk, clutching a child's hand.
Brownsville has long been one of New York City's most violent neighborhoods. Like other parts of the city, it has experienced a steep decline in crime in recent years. It's still one of the poorest parts of Brooklyn.
The New York City walkouts, which were among thousands held across the U.S. and around the world, honored victims of a high school massacre at a Florida school last month.
___
Information from: WABC-TV, http://www.7online.com