1 of 3 Ariz. Fugitives Caught in Colorado Shootout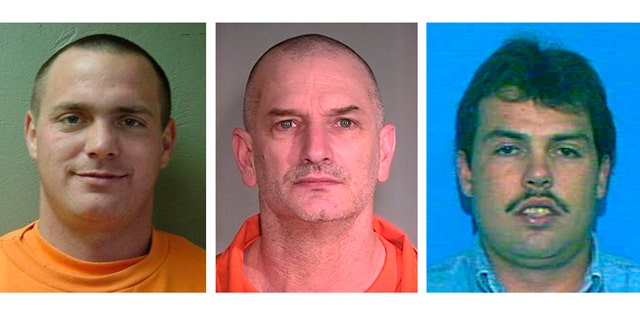 NEWYou can now listen to Fox News articles!
Arizona authorities pressed forward with their search of the state Monday for two fugitives, as corrections officials looked into whether shoddy security allowed the inmates to cut a hole in a fence and slip away undetected.
One of the three convicted murderers who fled a private prison Friday evening in northwest Arizona was caught Sunday after an early-morning shootout with an officer in western Colorado.
Police believe the two who remain at large are still in Arizona.
Early Sunday, a police officer spotted Daniel Renwick, 36, in a brown sport utility vehicle in Rifle, Colo., some 670 miles from the medium-security Arizona State Prison in Golden Valley, said Charles Ryan, director of the Arizona Department of Corrections.
The officer pursued Renwick, gunshots were exchanged, and the convict was eventually taken into custody without anyone being injured, Ryan said.
Renwick had been serving a 22-year sentence for second-degree murder when he and the other two inmates escaped Friday evening by cutting a hole in the prison's perimeter fence. The men then kidnapped two semi-truck drivers at gunpoint and used the big rig to flee, authorities said.
Both drivers were later released unharmed in Flagstaff.
Police said the two men who remain at large -- Tracy Province, 42, and John McCluskey, 45 -- should be considered dangerous. Province was serving a life sentence for murder and robbery, and McCluskey was serving 15 years for second-degree murder, aggravated assault and discharge of a firearm.
The men are believed to be traveling with McCluskey's girlfriend, Casslyn Mae Welch, 44, of Mesa, who is suspected of helping in the escape.
"The information from law enforcement suggests they are still in Arizona, and there's an all-points bulletin out for these people," Ryan said.
Authorities are no longer looking for a silver Volkswagen Jetta.
Investigators earlier said that one of the escaped convicts bought the car Saturday in west Phoenix. But early Monday morning, the spokesman for the Arizona Department of Corrections sent out a news release stating that after further investigation, law enforcement was no longer searching for the Jetta. No details were offered.
Authorities urged anyone with information to use caution and call police immediately.
The Department of Corrections will increase security at the prison.
"We have great concerns that there was laxness on the part of security staff at this private prison, but I'm going to allow the investigation to run its course," said Ryan, who plans to meet with prison officials early this week.
Management and Training Corp., the Utah company that runs the private prison, refused to comment.