1 dead, several injured as tornadoes sweep through Oklahoma, Arkansas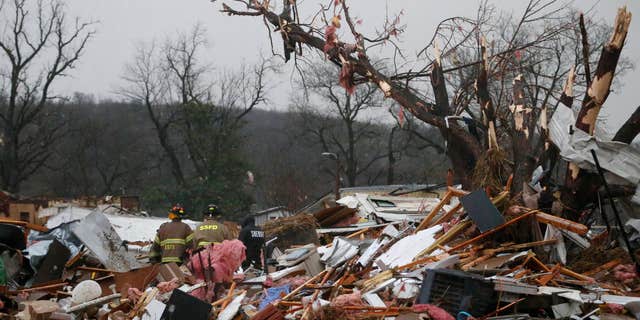 One person was killed and several others were injured Wednesday as tornadoes ripped through Tulsa, Okla. during the evening rush hour commute.
Tulsa County Sheriff's Capt. Billy McKelvey said the one person was killed in a mobile home park near suburban Sand Springs, which was almost destroyed amid severe weather. It was not clear whether it was a tornado or straight-line winds that hit the park.
Fox 25 reports at least 16 people were treated for injuries in the Norman Regional Health System in Oklahoma.
"It could have been much worse," McKelvey said.
Tornadoes were also spotted elsewhere in Oklahoma, as well as Arkansas, but not injuries were reported from those.
A small tornado hit parts of Moore, an Oklahoma City suburb where 24 people died when an EF5 tornado nailed the town in 2013. Some twisters touched down in the Ozark Mountains of northwestern Arkansas.
A waterspout was seen over an Arkansas lake, the first U.S. tornado in more than a month.
Television video Wednesday showed roof damage in a Moore neighborhood, while a glass door at the Tulsa building that houses the National Weather Service office was smashed, and several cars in the parking lot lost their windows.
Don Ruffin said he and a neighbor were at a convenience store in far southeast Moore when he saw the tornado approaching.
"I don't know how close it was to us, but it looked like it was coming toward us, and so we didn't take any chances," Ruffin said. "We got in our vehicles, ran home and got in our shelters."
Ruffin said after the storm passed, there were some fences knocked down and "patio furniture thrown everywhere."
The Oklahoman reported that 30,000 homes and businesses in the Oklahoma City area were without power. About 28,500 had lost power in Tulsa County, the Associated Press reported.
The Oklahoma Highway Patrol said an overturned tractor-trailer brought traffic to standstill on Interstate 35.
"Those troopers are working their guts out there right now," Lt. John Vincent said.
Moore Public Schools announced late Wednesday they canceled all classes and school activites for Thursday due to the storm. The district reports the roof of one elementary school was blown off during the storm.
The tornado season usually ramps up in the Midwest in March, but weather patterns funneled cold air into much of the country depriving the atmosphere of the warm, moist air that is necessary to form these kind of severe storms.
That all changed this week. Southerly winds pushed temperatures into the 70s and 80s across the Ozarks and Southern Plains, while weather fronts churned the air into Wednesday's storms.
Meteorologist Jeff Hood in Little Rock said a weak waterspout tornado briefly touched down in Bull Shoals Lake in Marion County in northwest Arkansas on Tuesday night. He said it will likely be classified an EF0 — the weakest tornado with wind speeds of 65 to 85 mph. A waterspout forms over water. The tornado never made it onto land, and there were no reports of damage.
"This will be the 'tornado' that breaks the drought for March," Greg Carbin, warning coordination meteorologist for the Storm Prediction Center, said before Wednesday's storms hit.
Before this week, only about two-dozen twisters had been recorded this year during a period when about 120 are typical. The last time the U.S. had no twisters in March was nearly 50 years ago, according to figures from the Storm Prediction Center in Norman, Oklahoma.
The Associated Press contributed to this report