You could own a floating villa in Dubai for $2.7 million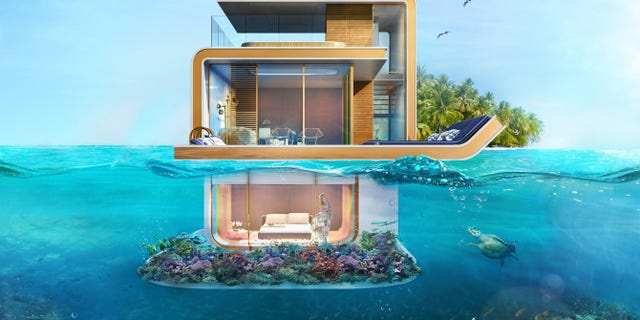 For years, Dubai has been known as a playground for extreme urban design. From Ski Dubai, the city's massive indoor ski slope, to the towering Burj Khalifa, daring architecture seems limitless in the United Arab Emirates' capital city.
Soon, Dubai will be adding yet another innovative wonder to its roster: the Floating Seahorse villas, located roughly two and a half miles off the coast in the waters of the Persian Gulf. Spearheaded by the design firm Kleindienst Group, the units have a current asking price of $2.7 million.
The floating homes will consist of three levels—the main floor at sea level, an upper deck, and a lower level completely submerged in water. The main floor, which includes an outdoor shower, a kitchenette, and glass-bottomed jacuzzi, will be ideal for entertaining. The lower, underwater level houses a master bedroom and bathroom with floor-to-ceiling windows for breathtaking views of marine life.
(The Kleindienst Group)
Each floating villa will also feature a man-made coral garden, spanning 495 square feet, that's connected to the underwater level.
"We will create an artificial coral reef beneath the luxury retreats," said CEO Josef Kleindienst about the design element that gave the complex its name in a statement. "It will be a protected area in which seahorses can safely live and breed."
Read more about these luxurious floating villas.
More from Architectural Digest
Go Inside a $53 Million Private Jet
Inside Jennifer Aniston's Gorgeous Beverly Hills Home
10 Awesome Hotels in California's Wine Country