Would you spend a night in the world's scariest hotel room?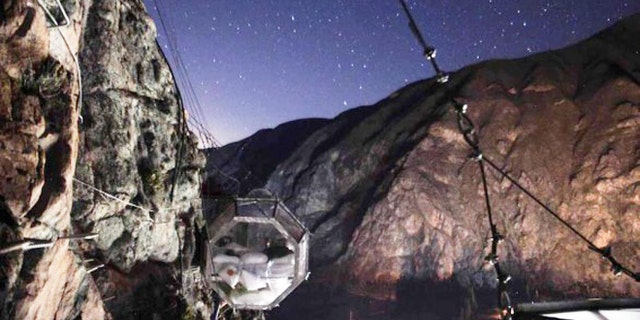 NEWYou can now listen to Fox News articles!
If you've got acrophobia, or fear of heights, this place is not for you.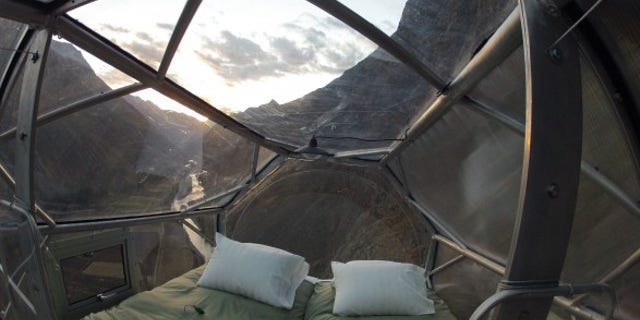 Skylodge Adventure Suites, at Natura Vive adventure park in Cusco, Peru, are a group of tiny sleeping capsules suspended from the top of a mountain overlooking Sacred Valley. But to get up there, you'll have to be in pretty good shape.
One way is an adrenaline-pumping 1,300 ft climb up a via ferrata, or metal ladder attached to a cliff face. The other way is a more leisurely four-hour hike through a zip-line trail. Coming down is no less thrilling. You can repel or take a zipline.
There are three pods that measure just 24 ft long by eight ft wide, but contain a dining area, eco-friendly bathroom and room to sleep up to four. Windows all around provide unobstructed views of the river and valley many, many feet below. There are also privacy curtains for those wishing to spend a more intimate time in their capsule. Polycarbonate panels—a super strong, weather resistant plastic—are held together with rods molded from aerospace aluminum.
But the feeling of accomplishment and a place to lay your head isn't all you get when you reach the summit. Brave climbers are rewarded with a gourmet dinner with wine.
A night of high-flying terror doesn't come cheap. A one night stay—complete with zip-lining down—costs about $314.