World's 7 best infinity pools
Pretty pools are the icing on the cake at fabulous hotels and resorts. They come in all shapes and sizes and include those with an infinity edge that seems to slip into the horizon, blurring the line between the pool and its view.
Whether hugging a large body of water such as the Pacific Ocean or the Caribbean Sea, or looking out onto a forested grove, it's a luxurious spot to unwind.
From Bali to Big Sur, and Spain to St. Lucia, here are seven of the world's best infinity pools.
1. Capella Pedregal, Cabo San Lucas, Mexico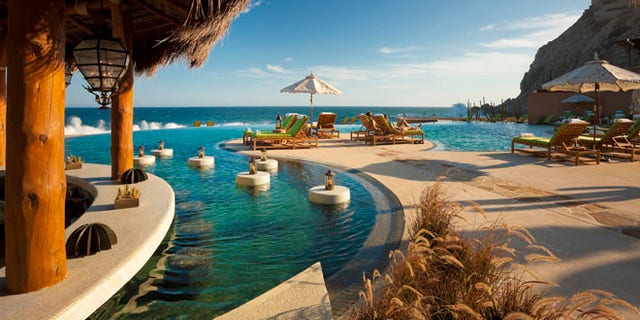 Because Capella Pedregal– a rare boutique hotel in Cabo – has only 96 rooms, its two infinity pools are rarely crowded. Located a flight of stairs above the Pacific Ocean and its accompanying sandy beach, lounging in these pools – a signature Capella margarita (with twists of grapefruit and orange) in hand, thanks to a swim-up bar – means you're literally a stone's throw from crashing waves, with soaring cliffs above for a magnificent view from all angles.
2. Jade Mountain, Soufrière, St. Lucia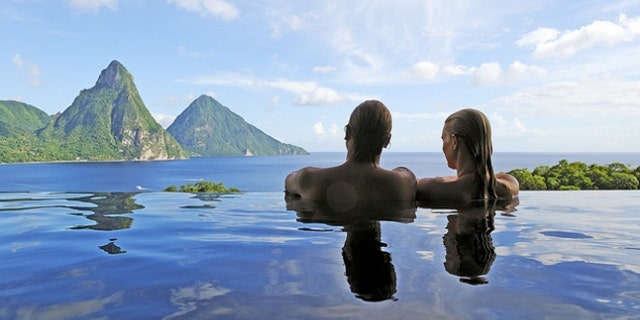 Every one of Jade Mountain's 29 villas has an attached private infinity pool, appearing to spill out into the Caribbean Sea, with postcard-perfect views of the island's Pitons, a UNESCO World Heritage Site. Crafted from one-of-a-kind shimmery iridescent glass tiles, no two pools are the same. Walls are on three sides, with the fourth wall being entirely absent practically guarantees privacy. Come nightfall, fiber-optic lights allow you to float under the moon.
3. Hotel Hacienda Na Xamena, Ibiza, Spain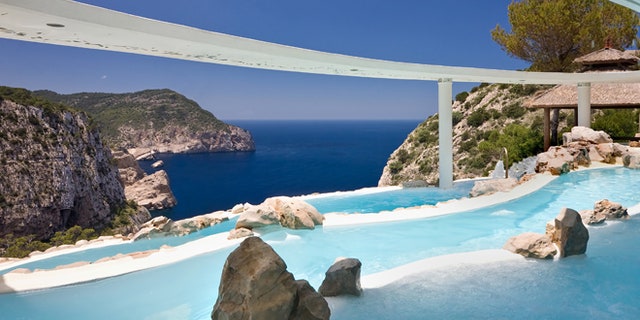 Putting another cool factor into Ibiza's sizzling-hot party scene are the infinity pools at Hotel Hacienda Na Xamena-- the 77-room hotel tucked into a national preserve full of rocky cliffs. With an open boomerang ceiling design with rumbling waterfalls, you'll soon forget where you are. And that's a good thing).
4. Viceroy Bali, Ubud, Bali, Indonesia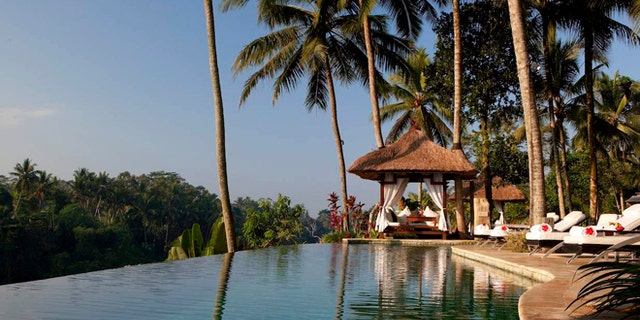 A lavish, tropical estate with 25 rustic-chic villas (each is paired with a private pool), the luxury at Viceroy Bali – just outside of the village of Ubud – extends to its large infinity pool. It's the perfect spot to take a dip while gazing at the valley below, and after one of the many heart-pumping activities offered by the hotel, such as a class in its yoga pavilion or trekking in nearby rice paddies.
5. Hotel Le Toiny, St. Barth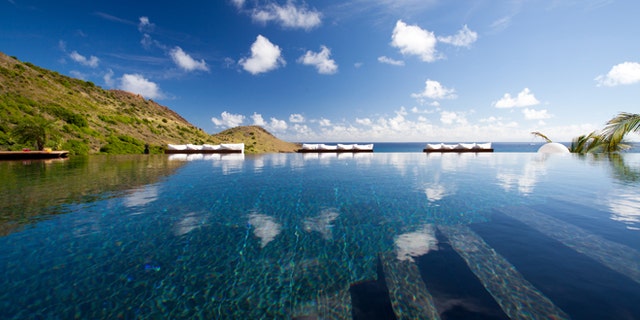 Among the 38 acres of luxury at Hotel Le Toiny are 15 glam cottages decked out in pastel hues. Each boasts of its own pool. Drop by the restaurant – Le Gaïac – and its infinity pool on the terrace is as tempting as the dishes whipped up by Sylvain Révélant (think spaghetti with black truffles or duckling filet in foie-gras sauce).
6. Matakauri Lodge, Queenstown, New Zealand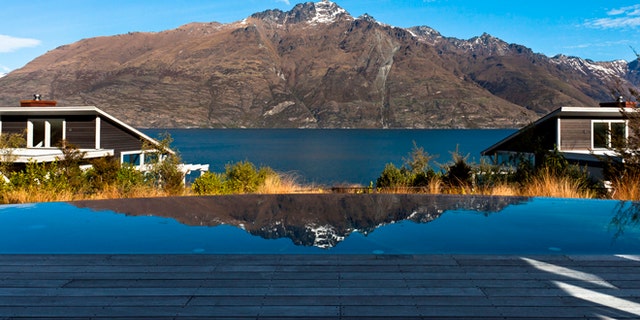 Gaze out at Cecil Peak while relaxing in the Matakauri Lodge's infinity pool, located on its Remarkables Patio adjacent to the spa. Rustic and chic, the pool's entrance features wide-plank wood flooring and a view of Lake Wakatipu. With just 10 suites on the property, there's plenty of room to stretch out in the pool.
7. Post Ranch Inn, Big Sur, California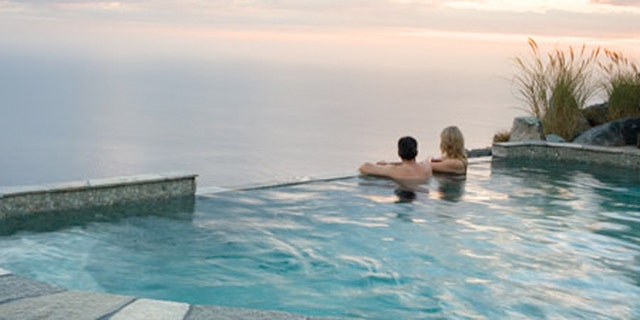 Perched 1,200 feet above the Pacific Ocean in Big Sur, and along Highway 1, the 40-room Post Ranch Inn boasts two of what it calls "basking spas." Essentially infinity pools, they are kept at a comfortable 104 degrees – and capitalize on the ocean view and stellar sunsets. Some accommodations feature a deck suspended over the cliffs and with its own infinity pool.