Women kicked off EasyJet flight following vulgar midair rant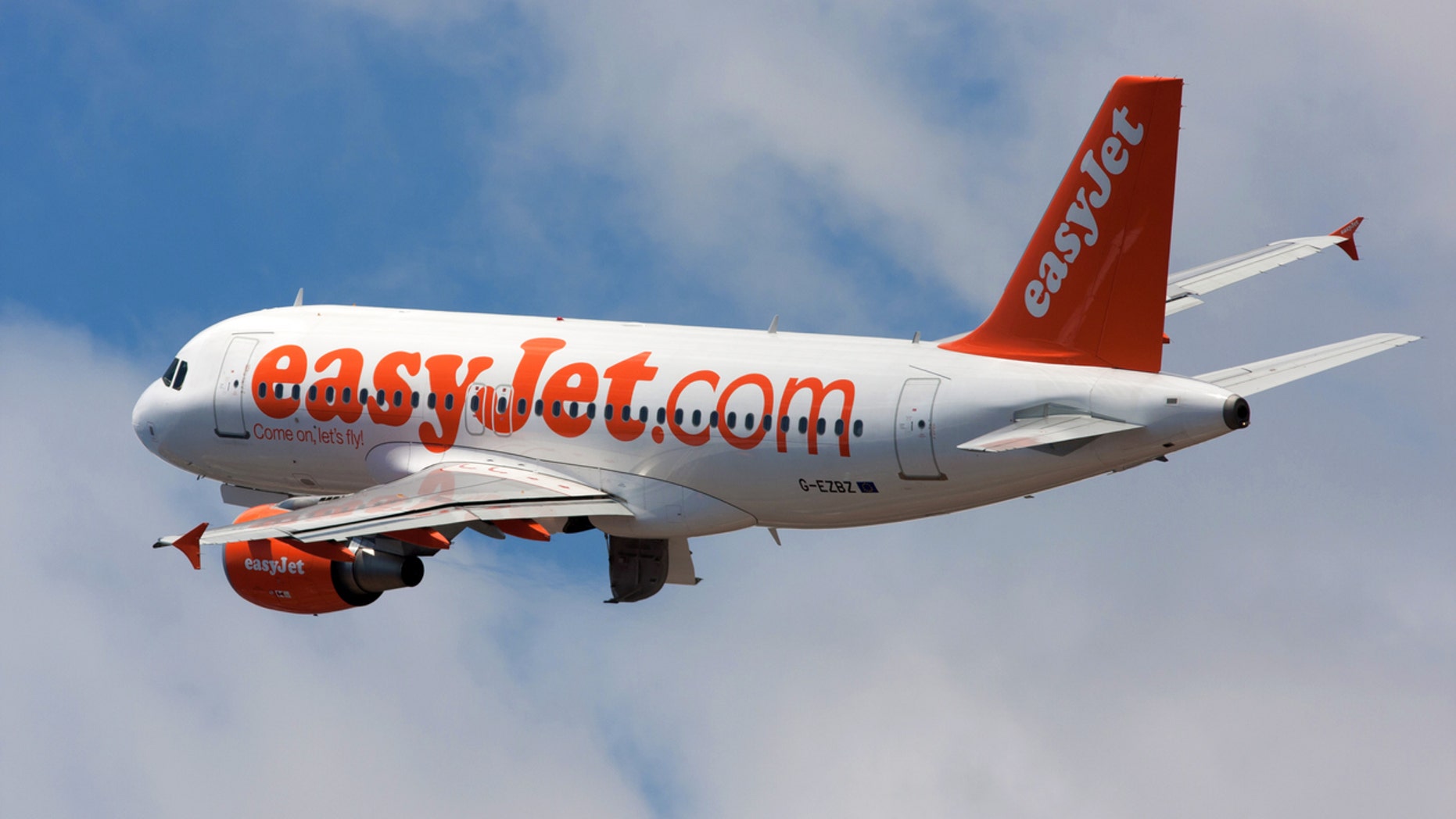 One too many drinks evidently got the best of a female EasyJet passenger and her friends on a flight from Manchester, England, to Paphos, Greece, as their foul-mouthed rant in the high skies became so hysterical they were forced to deplane in Athens.
The Liverpool Echo reported that a 23-year-old British woman and her three female traveling companions were removed from flight EZY1975 for her intoxicated, expletive-laden tirade at 30,000 feet, as evidenced in video footage. According to the Manchester Evening News, they have since been released.
SOUTHWEST SLAMS PASSENGER'S ANTI-MUSLIM TWEET, BUT PEOPLE ARE CALLING FOR COMPANY TO DO MORE
In the blurry clip of the March 23 incident, passengers and crew members try to calm the woman down to no avail, as she stands at her seat and loudly cries, seeming to believe that she is being forced to "live on the streets" as a prostitute on the Greek island of Corfu. She begins crying and claims she is "going to get raped" if she is thrown off the flight.
"I am not messing around. If the police come on they'll take you off in handcuffs," a stern passenger says. "The best thing you can do is get off. I'm asking you, please."
"Getting your [expletive deleted] phone out of my face," the frantic woman screeches as a fellow passenger is filming the scene.
EASYJET PILOT SUSPENDED FOR USING SNAPCHAT DURING FLIGHT
"I'm scared. I just want to go home… Please take me home… Please. I don't even want to go on holiday. Please take me home," she cries repeatedly.
"You've got to stay in your seats," a flight attendant chimes over the aircraft's intercom through the chaotic scene, as the woman continues crying. "Read me my rights, read me my rights! I haven't done nothing," she says.
FOLLOW US ON FACEBOOK FOR MORE FOX LIFESTYLE NEWS
One passenger told the Mirror that the rowdy woman and her traveling companions "gradually got worse and worse" through the duration of the holiday flight. They started swearing and arguing as they "took out a bottle of vodka and a bottle of brandy."
"They were warned about bringing their own alcohol but they had a go at the stewardess. They took one bottle from them but they still had one more and they carried on drinking," he said. "We thought they'd fall asleep but they didn't. Two of them were talking about performing sex acts in the toilet and they kept going to the toilet."
Another 41-year-old passenger traveling with her husband and young sons said one of the girls spat over the face of one passenger.
"It was unbelievable. Shocking, just shocking," she said of their behavior.
EasyJet confirmed the incident to Fox News and offered the following statement:
"EasyJet can confirm that flight EZY1975 from Manchester to Paphos on 23 March was diverted to Athens and met by the police on arrival where four passengers were offloaded as a result of disruptive behavior onboard and the flight continued to Paphos once the passengers were offloaded," a company spokeswoman said. "The safety and wellbeing of passengers and crew is always EasyJet's priority."
In addition, a Foreign Office spokesperson confirmed to the Manchester Evening News that they are taking action on behalf of the four women.
"We are assisting four British women arrested in Greece. Our staff are in contact with their families and the Greek authorities," the spokesperson said.
This is the second time in a week that the carrier has made headlines for wild antics in the high skies, as an EasyJet pilot was suspended for using Snapchat during a flight just days before.