Why don't unruly passengers face criminal charges more often?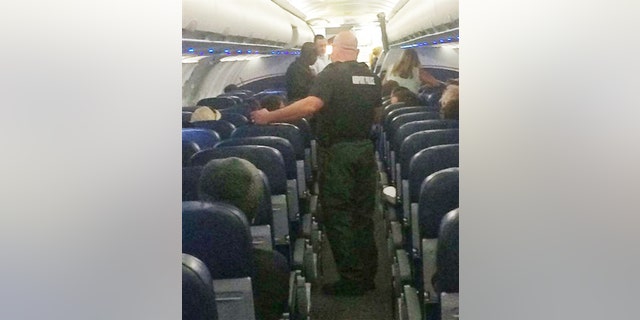 Out of control airline passengers that divert or delay flights often grab headlines, but what happens to these unruly fliers when the flight lands? It turns out that a lot of the time, very little.
Federal law bans passengers from interfering with flight crew. Yet, Department of Justice figures show that just 11 percent of cases brought to the Federal Aviation Administration between 2001 and 2014 rose to the level of federal criminal prosecution, reports NBC News.
That's surprising considering that many disruptive passengers can cost airlines big money.
According to Perry Flint, a spokesman for the International Air Transport Association, it can cost airlines between $10,000 and $200,000 to perform an unscheduled landing, divert a flight or disembark an unruly passenger. Airlines can press charges and the FAA can fine a disruptive passenger up to $25,000 per incident—but many times bad behavior goes unpunished.
In February, USA Today published the details of dozens of FAA settlements in unruly passenger cases from 2009 to 2013. They found that the agency had levied about $1 million in fines but defendants were billed about $435,000 after settlements.
Experts say carriers are sometimes reluctant to press criminal charges against the traveler because of fears that bad press could hurt the the airline's image. And official figures may not even tell the whole story because airlines are not legally required to report disruptive passengers to the FAA.
In October, American Airlines didn't press charges after a drunk man caused a flight from San Jose, California, to be diverted to Phoenix because he was yelling and had to be restrained. Meanwhile, another passenger flying from Phoenix to New York is facing federal criminal charges for threatening to bring down an American Airlines flight after being told he could not smoke an e-cigarette.
An American Airline representative, speaking about the October incident, said decisions to file charges were made on a case-by-case basis.
"It's a rare occurrence in the context of the number of flights, but it's a growing problem," Flint told NBC News about the rate of unruly passengers.
The number of anonymous complaints made to the Aviation Safety Reporting System (ASRS), which is run by NASA for the purpose of providing a way for pilots and other airplane crew members in the U.S. to confidentially report air safety incidents, has sharply increased—from 393 in 2001 to 892 in 2014.
The IATA, which handles international complaints, has also seen a growing number of incidents. In 2013, the number of incidents of unruly behavior voluntarily reported to IATA by airlines worldwide reached some 8,000 cases. But Flint says passengers--especially those traveling internationally -- avoid facing fines or prosecution due to legal loopholes.
"Right now, too many times on an international flight a passenger is disruptive and the passenger walks away."
As a way to crackdown on unruly passengers, the IATA adopted the Montreal Protocol 2014, which was created to strength the Tokyo Convention of 1963, signed by foreign governments at a meeting of the UN's International Civil Aviation Organization, which effectively extends the legal jurisdiction for where these incidents occur to the territory in which the aircraft lands.
But still needs ratification from 22 countries before going into effect.
Flint says airlines need to take a more aggressive legal stance in pursuing the customers behind disruptive incidents, or else the problem is likely to continue.
"Let passengers understand that unruly behavior will be brought before a court," Flint said.
Something to keep that in mind this holiday when the passenger in front of you reclines his seat a little too far.
The Associated Press contributed to this report.