Which airlines are requiring masks for flight attendants or passengers?
Get all the latest news on coronavirus and more delivered daily to your inbox. Sign up here.
Please place your seatbacks and tray tables in their upright position — and put your masks on.
SEE IT: AIRASIA DEBUTS NEW FLIGHT ATTENDANT UNIFORMS WITH HOOD, FACE COVERING
The Centers for Disease Control and Prevention (CDC) already recommends that everyone wear a "cloth face covering" in community settings, "including during travel if they must travel." Unions representing flight attendants and pilots are also championing the idea of requiring masks for everyone onboard, but there is not a mandate from the Federal Aviation Administration for such measures as of yet. As of now, it's up to the discretion of the airlines.
That said, all major U.S. airlines have mandated that flight attendants wear protective masks during flights, with the vast majority of carriers also requiring passengers to don protective face coverings as well.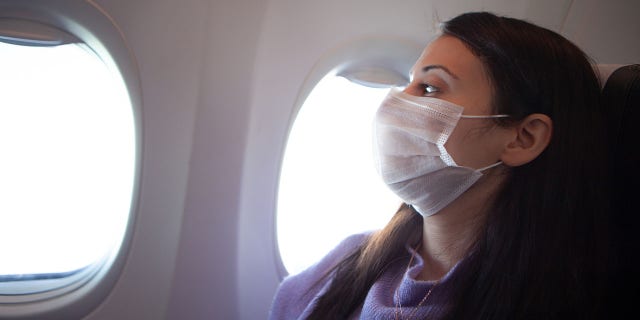 But when do these requirements go into effect? And which airlines are requiring passengers to bring their own masks? Here's what travelers need to know:
Alaska Airlines
On May 1, Alaska Airlines announced that masks would be required for guests as of May 11. Passengers are instructed to bring their own face coverings, but the airline said in a blog post that "additional supplies will be made available for those who forget."
"Safety is our most important value at Alaska Airlines, and thanks to our employees we have an incredibly safe operation," said Max Tidwell, Alaska Airlines' vice president of safety, per a statement shared on the carrier's blog. "In light of COVID-19, we're in a new era and are continually updating our safety standards to better protect our guests and employees. For now, this includes wearing masks, which is another layer of protection that can reduce the spread of the virus."
Alaska Airlines team members who cannot maintain six feet of social distancing — including everyone from pilots to flight attendants to gate agents — will also be required to wear masks as of May 4, the company confirmed.
PHOTOS: DESIGN FIRM PROPOSES NEW SEATING ARRANGEMENTS FOR AIRPLANES
American Airlines
On April 27, American Airlines announced that face masks will become a requirement for flight attendants as of May 1. Each mainline flight will also have a designated drawer containing personal protective equipment, including masks and "other sanitizing items," for use by the crew.
On April 30, American Airlines updated its policy, requiring all passengers to wear face coverings starting on May 11. "Very young" travelers and those with conditions that prevent them from wearing masks will be exempt.
"The American Airlines team continues to prioritize the safety of our customers and team members, and requiring a face covering is one more way we can protect those on our aircraft," said Kurt Stache, American's senior vice president of customer experience, in a media release. "We ask customers to bring their own masks or face coverings they're comfortable with when they travel. American is working to procure face masks and hand sanitizer as a supplement."
Delta Air Lines
In a memo shared with its in-flight and flight operations employees on April 27, Delta Air Lines updated its "mask-wearing guidelines," requiring that all employees wear face coverings if they are unable to maintain six feet of distance with other employees or passengers.
On April 30, Delta expanded that policy, requiring that all passengers start wearing face coverings as of May 4. Travelers will be required not only to wear masks on the plane, but also in the check-in lobby, and "across Delta touchpoints including Delta Sky Clubs, boarding gate areas, jet bridges and on board the aircraft for the duration of the flight — except during meal service." Customers are also reportedly encouraged to wear masks on security lines and in restrooms. Exceptions will be made for children and those who are physically unable to wear masks.
"While we remain committed to our new standard of clean and to providing more space for our customers when they travel, we take seriously the CDC guidelines for adding this extra layer of protection, said Bill Lentsch, Delta's chief customer experience officer, in a media release. "We believe this change will give customers and employees some additional comfort when traveling with us."

CLICK HERE TO SIGN UP FOR OUR LIFESTYLE NEWSLETTER
Frontier Airlines
Frontier began mandating that its flight crews wear masks as of April 13. Around the same time, the airline's CEO issued a mask requirement for all employees, "Regardless of role," a representative for the airline told Fox News.
On April 30, the airline announced that passengers, too, would be required to wear "face coverings" on all flights, as well as at the ticket counter and gate areas, starting May 8.
Hawaiian Airlines
Flight attendants for Hawaiian Airlines are required to wear masks during the flight, after previously being told to wear masks "only" when dealing with possibly infected passengers.
On May 1, the carrier said this requirement would extend to all guests flying with the airline as of May 8.
"This new requirement will apply from check-in at the airport to deplaning at the destination and disposable face masks will be available at our check-in counters and gates for guests who may not have a face covering," the airline outlines on its "Keeping You Safe" resource webpage.
Prior to May 1, the airline had only encouraged guests to follow the CDC's recommended guidelines while traveling.
FOLLOW US ON FACEBOOK FOR MORE FOX LIFESTYLE NEWS
JetBlue
JetBlue has required all in-flight crew members to wear protective face coverings as of April 17. On April 27, the airline became the first major U.S. carrier to also require all passengers to begin wearing face coverings throughout the entire flight, from check-in through deplaning. Only "small children" will be exempt, the airline confirmed in a press release.
"Wearing a face covering isn't about protecting yourself it's about protecting those around you," said Joanna Geraghty, president and chief operating officer of JetBlue, in the announcement. "This is the new flying etiquette. Onboard, cabin air is well circulated and cleaned through filters every few minutes but this is a shared space where we have to be considerate of others. We are also asking our customers to follow these CDC guidelines in the airport as well."
The new requirements for JetBlue passengers will take effect as of May 4.
Spirit Airlines
On May 3, Spirit Airlines announced that guests will be required to wear face coverings on all flights as of May 11, although guests will be "expected to bring their own face coverings."
The airline's crew and other "guest-facing team members" will also be required to start wearing masks, though Spirit's media release did not specify when this requirement would go into effect.
Prior to May 3, Spirit Airlines had no guidance on its Coronavirus Information Center regarding masks. However, in a video posted to the webpage, all crew members were seen wearing protective face coverings when interacting with each other, or passengers.
Southwest Airlines
On May 1, Southwest Airlines announced that all "customer-facing" employees will be required to wear masks as of May 3. Previously, the airline had only "encourage[d] this practice by offering employees personal protective equipment such as face masks, gloves and sanitizing wipes," a representative for the airline told Fox News.
Passengers, too, will be required to wear face coverings starting on May 11.
"Southwest encourages Customers to bring their own face mask or covering, along with hand sanitizer, while traveling," the airline wrote in a media release. "If a Customer forgets their mask, Southwest will have one available for them."
CLICK HERE FOR FOX NEWS' CONTINUING CORONAVIRUS COVERAGE
United Airlines
United Airlines announced on April 23 that all flight attendants are required to wear face masks or coverings while on duty. "This new initiative is in line with the most recent CDC recommendation that says wearing a cloth face covering is advisable when in public and when social distancing is difficult to maintain," the airline wrote in a safety update.
One week later, on April 30, United confirmed that passengers, too, would be required to wear face coverings as of May 4, and "will provide masks to passengers for free." Previously, United passengers were only encouraged to "use gloves and masks as needed," per guidance from the CDC and World Health Organization (WHO).