Where the cast of 'Southern Charm Savannah' hangs when cameras aren't rolling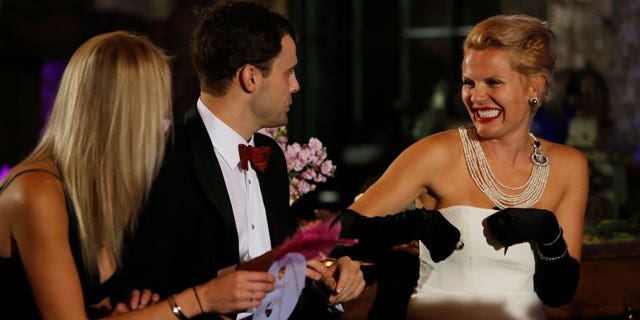 With its bourgeoning restaurant scene, indie music venues, antebellum haunts and hip new neighborhoods near Historic Downtown — and, of course, its open container policy — Savannah is a must-see American city.
And now that the city serves as the stunning and historical backdrop for each episode of Bravo TV's "Southern Charm Savannah," in which six born-and-bred Savannahians give viewers an inside look at their posh lifestyles, the atmospheric southern city is getting a whole new spotlight.
Fox News talked to the cast members of the hit reality show to find out where they really hang out when the cameras turn off.
Favorite Savannah Dive Bars
Pinkie Masters, a cash-only locals' bar, is the favorite dive of fashion stylist Ashley Borders, Savannah party boy Daniel Eichholz, and Southern belle Catherine Cooper. Famous for being the locale where 39th U.S. President Jimmy Carter jumped on the bar and announced he'd run for president, Pinkie's has a juke box, a cozy bar, and stays open till 4 a.m.
FORMER PRESIDENT JIMMY CARTER SHAKES HANDS ABOARD ATLANTA FLIGHT
Southern entrepreneur Louis Oswald and his girlfriend, Hannah Pearson, love Abe's on Lincoln. Abe's is the oldest bar in Georgia, with low 7-foot 6-inch ceilings and a rustic atmosphere. "They give you a napkin and encourage everyone to draw their own Abe Lincoln on a napkin or dollar bill, and they post it on the wall," said Oswald, who added that tavern is covered in dollar bills with Abe Lincoln renditions.
Favorite Historical Spots
Nelson Lewis, a friend of the cast and a descendant of Declaration of Independence signer Thomas Nelson, Jr., said the 19th century Fort Pulaski National Monument and the Pin Point Heritage Museum are the best historical spots in town. "Pin Point is the birthplace of Associate Justice of Supreme Court Clarence Thomas," Lewis said. "Interestingly enough, Savannah has produced two Supreme Court Justices, the second being former Congressman and Associate Justice James Moore Wayne."
Lyle Mackenzie, the blond Southern gentleman of "Southern Charm Savannah," agreed that Fort Pulaski is one of the best historical places to visit. "You can still see the battle scars on the exterior walls from the Union Army's ship's cannons," said Mackenzie.
Most Haunted Places
Savannah is believed to be one of America's most haunted cities, and offers a variety of ghost tours available for locals and tourists alike. Lewis believes the Olde Pink House, a romantic restaurant set in the heart of downtown in an 18th century mansion, is haunted by the ghost of Gov. James Habersham, who died in 1775.
Oswald argues that the Pirate's House is the most haunted. "Rumor has it that if someone can spend one night in the old tavern [alone] without having a total freak-out, he'll be awarded with a nice cash sum," explained Oswald. "The Pirate's House was a haven for pirates and all of the riff-raff … If someone had too much to drink, they would push him down through a hatch, and when he woke up, he'd realize he'd been shipped off to sea."
Best Savannah Restaurants
Oswald loves Garibaldi, a two-story restaurant with an grand feel. "Growing up, Garibaldi was always such a special treat to go to as a family, and was only for special occasions," Oswald remembered. "The restaurant is like Historic Savannah and Italy had a fine baby. I have great memories there."
Mackenzie's favorites include the casual, order-at-the-counter Zunzi's, a South African restaurant where he orders the Godfather special (a sandwich with chicken, sausage and cheese) topped with Zunzi's handcrafted sauce. Mackenzie also loves downtown restaurant Circa 1875 for its innovative French fare and atmosphere.
Pearson, Eichholz, and friend of the cast, Happy McCullough, prefer The Collins Quarter, an Aussie-owned downtown restaurant and espresso bar, for brunch, dinner, and cocktails.
Favorite date spot
Oswald and Pearson spend romantic evenings at The Olde Pink House's side bar on a quiet block of St. Julian Street, where Pearson orders the Pink Lemonade Lady, their signature cocktail. Oswald adds, "I love the fact that you're outside with fine dining mixed with a little flair of a top shelf sports bar."
Meanwhile, the other romantic couple on "Southern Charm Savannah" — Cooper and Mackenzie — have date nights at the quaint Tybee Island Fish Camp, which is only open for dinner Wednesday through Sunday nights. "It's the ideal spot for a romantic night out," said Cooper. "Their lump Georgia blue crab cakes alone are well worth the drive."
Borders prefers to be taken to dinner at Garibaldi's and then to the Savannah Symphony. "I find evenings like this magical," she said. "Plus, it holds this old-school charm that melts my heart."
Best Beaches
Many people don't know that Savannah is just a twenty-minute drive from the Tybee Island beaches. From there, Oswald enjoys taking a boat to Williamson Island, where he says the beach can be packed with people of all ages and tons of boats.
Lewis and Cooper are partial to Tybee's North Beach Bar and Grill, where Lewis frequently orders the Jamaican jerk chicken and relax for the rest of the afternoon.
"After a while you lose track of time," said Lewis. "We locals like to call it 'Tybee Time.'"
The Deck, the newest Tybee restaurant opened by the owners of The Collins Quarter, is Eichholz and Pearson's favorite spot for upscale beach bites. "It's right on the beach; you can walk in straight from the sand," Eichholz explains. "There's nothing like it around."
THE 17 SEXIEST BEACHES ON INSTAGRAM
Favorite Spot to Dance
While Borders likes to have "epic dance parties" in her living room — soundtracked to Donna Summer's "Love Triology" and Elton John's "Yellow Brick Road" — Oswald and Cooper think El-Rocko Lounge, a gold-dusted, '70s-inspired fixture of the local indie music scene, is the spot to groove.
In another fashion, Eichholz prefers to shake things up at Mata Hari, a speakeasy on the Savannah River. Mata Hari has a secret back room that offers private shows and burlesque performances; patrons need a key or the password to enter.
Greatest Live Music
Savannah, known as the Hostess City, is a well-known for hosting festivals. Borders' favorite is the Savannah Jazz Festival, which kicks off September 17 and runs through September 23. During those days, Forsyth Park hosts free outdoor concerts in the amphitheater.
Cooper and Lewis like the Savannah Music Festival, the largest such festival in the whole city, which happens every March at different parks, museums and bars throughout town.
Best View
Mackenzie, Oswald and Eichholz recommended visiting the top of the Hilton Savannah DeSoto to experience the most beautiful view in town. The hotel was built in 1890, and the rooftop offers a panoramic scene of the city and an impressive view of the iconic Cathedral of St. John the Baptist.
Favorite Shops
Borders shops at ZIA Boutique on Savannah's main shopping street, Broughton Street, for chic jewelry collections from around the world. The store owner, Zia Sachedina, is also one of Ashley's close friends, and makes several cameos on the show.
Oswald and Mackenzie's favorite shop in town is the upscale mens clothier J. Parker Ltd., where Oswald's extravagant men's sock line — JL the Brand — can be found.
FOLLOW US ON FACEBOOK FOR MORE FOX LIFESTYLE NEWS
Best Thing to Do on a Saturday Night
Saturday night is arguably Savannah's biggest night to go out and party. Oswald and Eichholz's favorite thing to do on Saturdays is bar-hop, stopping into Congress Street Social Club and other bars along Savannah's Congress Street strip.
But on Mondays? That's when the cast settles into their couches and tunes into "Southern Charm Savannah."
The season premiere of "Southern Charm Savannah" airs Monday, June 25 at 10 p.m. ET on Bravo TV.