WATCH: Fans use 250,000 LEGO bricks to build massive Millennium Falcon for 'Star Wars' Day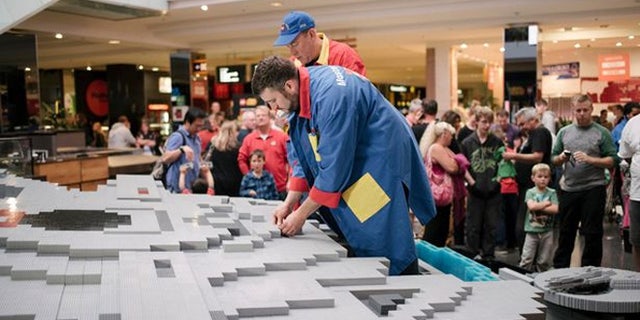 May the 4th Be With You.
Two LEGO master builders created a massive model of the Millennium Falcon to mark International Star Wars day.
Chris and Dan Steininger came together with LEGO and "Star Wars" fans at an event this weekend in Melbourne, Australia to recreate a 15-foot model of the ship Han Solo and Chewbacca fly in the original "Star Wars" film.
According to The Telegraph, it took the father and son team (and a battalion of volunteers) two days and more than 250,000 bricks to build the ship, along with two TIE Fighters.
The Star Wars ships are on display to the public at Melbourne's Westfield Southland shopping center.
This isn't the first LEGO "Star Wars" monstrosity to be created ahead of the release "Star Wars: The Force Awakens"--which hits cinemas later this year.
In February, professional LEGO builders used over half a million bricks to a 13-foot high, 8-foot wide Death Star, which is now on display at the Star Wars Miniland exhibit at Legoland in California – which also includes a Jawa sandcrawler and a full-size Darth Maul.
Have a look at the very cool time lapse photography of the making of the Millennium Falcon –brick by brick.