Warner Bros. Studio hosting Hogwarts breakfast for Harry Potter fans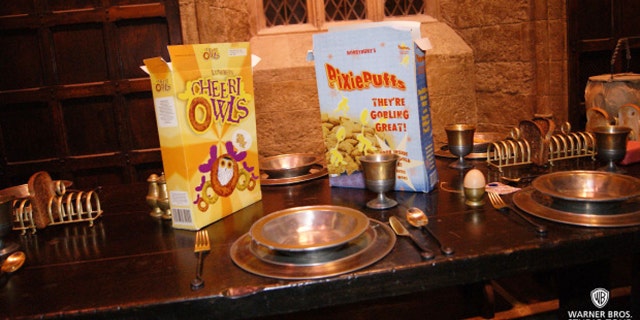 Plain old pancakes and soggy cereal might be a fine way to start the day if you're a Muggle.
But why not add a little magic to your morning with a once-in-a lifetime breakfast at Hogwarts?
This summer, Warner Bro. Studio Tour London is offering two special breakfast events just for Harry Potter fans.
Guests will be able to visit the Hogwarts' Great Hall set up exactly like the breakfast scenes in the films, right down to the boxes of Pixie Puffs and Cheeri Owls.
In addition to magical cereals, the kitchen elves will be preparing mini brioches with oak-smoked bacon and homemade tomato chutney, mini emmental and ham croissants, sausage and brown sauce muffins, hash browns with sun blushed tomato concassé, berries and Greek yoghurt, fruit kebabs drizzled with maple syrup and danishes.
Staff members dressed in full Hogwarts' uniforms will join you in the Great Hall to snap some souvenir photos as you dine.
After breakfast, Muggles can also explore other sets, including the Hogwarts Express at Platform 9 3/4, number four Privet Drive, Diagon Alley, the Gryffindor common room, Dumbledore's office and the Weasley kitchen at The Burrow.
Breakfast At Hogwarts is being offered on two consecutive Sundays in August-- August 21 and August 28. Both events start at 8:30 a.m.
But such a bountiful breakfast doesn't come cheap. Tickets for children start at 75 pounds (about $98) while adult tickets are almost $124. Tickets go on sale Wednesday, July 6.