Want to workout on the road? Hilton brings the gym to your hotel room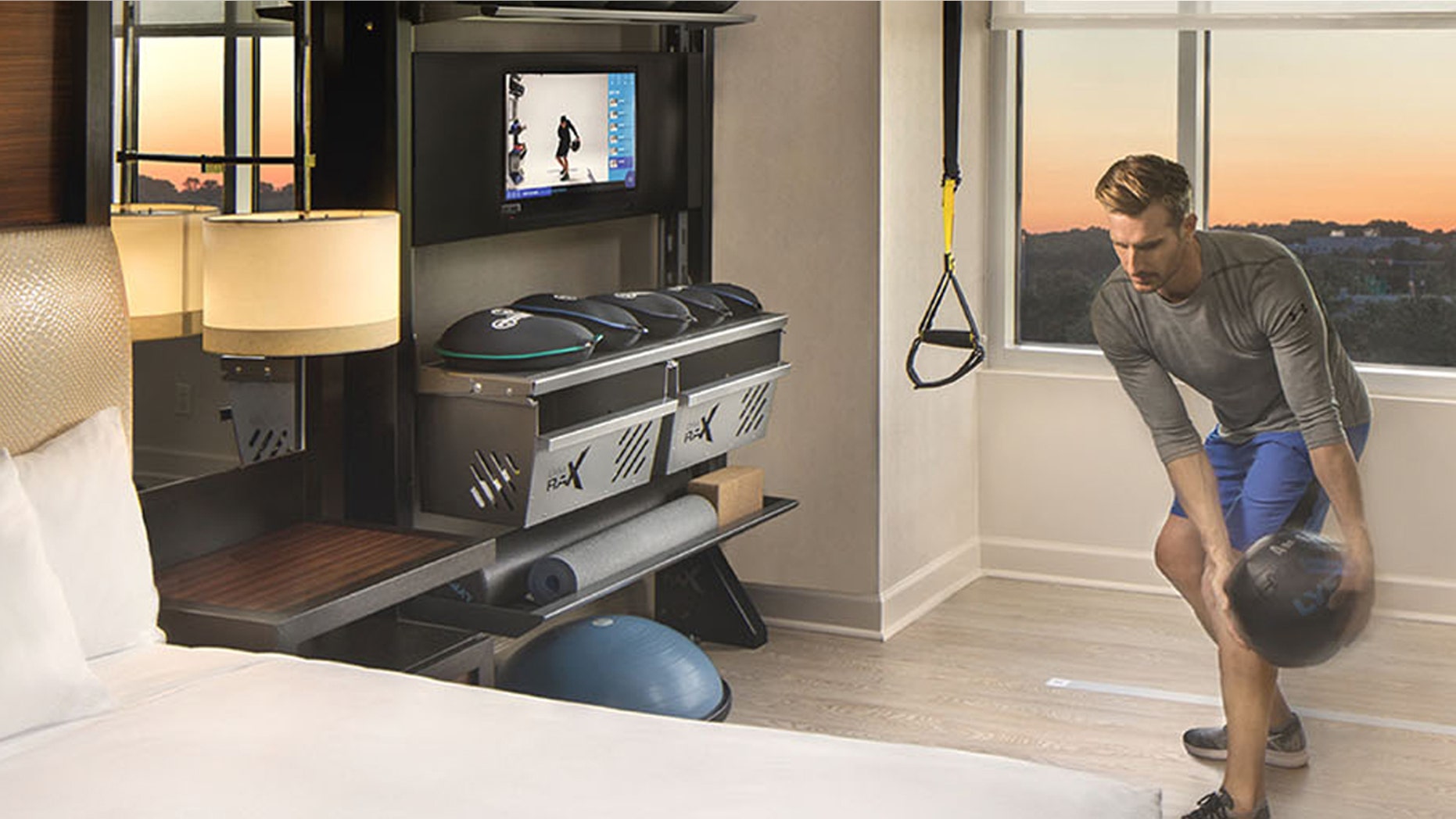 Rolling out of bed and right into a workout is about to get a whole lot easier for Hilton guests.
Just in time for beach season, the hotel group has unveiled a state-of-the-art, in-room wellness concept known as "Five Feet to Fitness."
Currently available at the Parc 55 San Francisco and Virginia's Hilton McLean Tysons Corner, Five Feet to Fitness essentially transforms guestrooms into private fitness and wellness centers.
The one-of-a-kind amenity features 11 different fitness equipment and accessory options, including an indoor bike from British cycling innovator Wattbike, a Gym Rax functional training station and a TRX workout system.
Guests will also have access to a meditation chair, blackout shades for bedtime, Biofreeze to ease muscle pain and tension as well as their choice of protein and hydration drinks.
The unique fitness offering will be featured in standard guestrooms and will be accessible to everyone. Guests can expect to pay about $45 more for a Five Feet to Fitness room, with rates varying based on dates and location.
If guests are unsure where to begin, a Fitness Kiosk featuring a convenient touch screen display is there to provide equipment tutorials and guided workout routines.
The comprehensive and on-demand fitness experience is powered by Aktiv Solutions' guided-training platform.
"The kiosk provides real-time instructions much like a personal trainer at your gym, showing you how to correctly and safely use the equipment in the room," Hilton's senior director of global wellness Ryan Crabbe told TravelPulse.
"It offers more than 200 videos ranging from cardio, cycling, endurance, strength, High-Intensity Interval Training (HIIT), yoga, recovery and everything in between."
Currently, there are just eight guestrooms equipped with the new fitness offerings, but more are coming.
"As of now, we plan to focus on expanding to more hotels in the Atlanta, Austin, Chicago, Las Vegas, New York and San Diego markets, making this available to more travelers around the country," added Crabbe, who points out that hotels will need at least three Five Feet to Fitness guestrooms in order to participate in the program.
Hilton is aiming to expand the concept to 100 guestrooms by the end of 2017.