United pilot seen sleeping during flight was following FAA regulations, reports find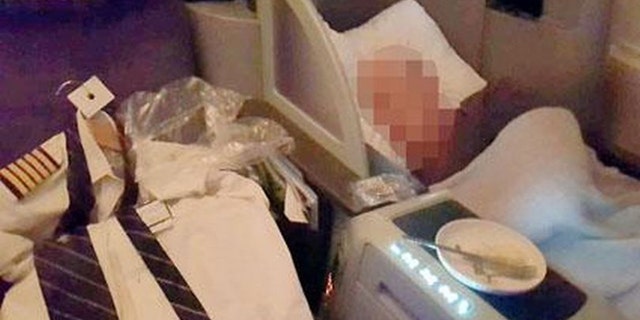 A United pilot who shocked passengers for leaving the cockpit to take a nap in first class on a flight from Newark to Glasgow was merely following safety regulations, the airline said.
A passenger on the overnight Aug. 22 flight took a photo of the sleeping captain after noticing he changed out of his uniform in the lavatory then laid down for a rest in one of the plane's empty seats.
DELAWARE FISHERMAN SETS STATE RECORD WITH 79-POUND COBIA, OFFICIALS CONFIRM
"He slept for an hour and a half, then the first officer went for a sleep. The flight was about seven hours," the passenger told the Daily Record.
"I don't think the captain of a flight packed with hundreds of people should be in such a vulnerable position. Surely if pilots are in need of a rest mid-flight, they should do it away from the passengers. I've travelled to the US many times and have never witnessed this."
However, despite the passenger's shock, this situation isn't uncommon nor should it be cause for concern as it's merely a safety precaution to keep crew members from getting fatigued.
NUDE MAN SETS HOUSE ON FIRE TRYING TO BAKE COOKIES ON GEORGE FOREMAN GRILL
The Federal Aviation Administration requires pilots to get a certain number of hours of rest within a 24-hour period.
"Since many air carriers fly non-stop ultra-long-range flights, the FAA continues to evaluate the latest research on the effects of time zone changes on circadian rhythm and time zone changes to mitigate pilot fatigue. For international flights that require more than 12 hours of flight time, air carriers must establish rest periods and provide adequate sleeping facilities outside of the cockpit for in-flight rest," according to an FAA Fact Sheet on Pilot Flight Time, Rest, and Fatigue.
While many planes have a specific private area above the forward galley designated for crew members to rest, smaller planes don't have such areas. On the Boeing 757-200 model aircraft, like the one flown from Newark to Glasgow, one of the 16 lie-flat business class seats is reserved for as the crew rest area, according to The Points Guy.
FOLLOW US ON FACEBOOK FOR MORE FOX LIFESTYLE NEWS
A United spokesperson confirmed the pilot on the flight in question was complying with mandatory safety measures.
"The safety of our customers and employees is our top priority. On trans-Atlantic flights, our pilots are required by the FAA to take a rest break. The aircraft on this route was operated by a cockpit crew of three and this pilot was following the FAA-mandated crew rest requirements," the spokesperson said.