United passenger claims 'intoxicated' man repeatedly grabbed her thigh on flight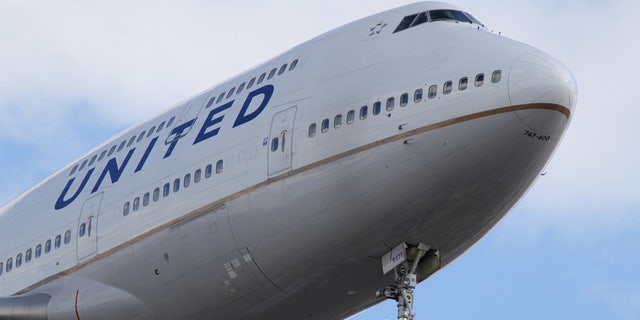 A United Airlines passenger claims a "highly intoxicated" man repeatedly grabbed her thigh during a Tuesday flight and says she was "shocked" by how United chose to handle the situation.
"Was sexually harassed on @united flight late last night to BUF. 1 attendant was helpful, and man arrested at gate," Katie Campos posted to Twitter on Wednesday morning.
"Shocked by lack of coordinated response by united to ensure passenger safety. Man kept touching me and others until very end," she added, along with a hashtag reading "#dobetter," presumably aimed at United.
SPIRIT NOT RESPONSIBLE FOR DRUNKEN BRAWL ON FLIGHT, JURY SAYS
The alleged incident occurred during a late-night flight from Newark to Buffalo, a trip that takes around 45 minutes.
According to her statement on Twitter, the man, who was sitting between herself and another female passenger, "almost immediately" started grabbing her inner thigh after he sat down.
Campos said she fought him off the first time he grabbed her and asked him to stop the second time. The third time, she said, she left her seat and informed a flight attendant.
"I asked her to move my seat and to check in on the other woman in the window seat," she wrote. "I told her that I overheard him asking to kiss the woman sitting in the window seat, who asked him to stop and to let her sleep."
AIRLINES BATTLING GROWING PILOT SHORTAGE THAT COULD REACH CRISIS LEVEL
Campos said the crew member waited about five minutes before checking on the other woman, who also asked to be reseated. Campos further said that the flight attendants didn't inform other passengers why she had been reseated.
"They told me that wasn't my seat … it was very uncomfortable, and I explained to them that the man in front of us was sexually harassing me."
Campos said that, even after she and the other woman moved, the man kept peering back at them from his seat. In their absence, he also tried to touch Campos' fiancée, who was sitting across the aisle from his row.
During landing, the crew allegedly told Campos they would not be able to help her any further. But once they were on the ground, Campos said a flight attendant — presumably the only one Campos thought was "helpful" — came over to the man, informed him that police were waiting at the gate and advised Campos and the other woman to press charges.
According to a police report obtained by The Washington Post, neither Campos nor the other woman pressed harassment charges, but the man — who exuded a "strong odor" of alcohol — was charged with disorderly conduct.
Campos says she's now urging airline carriers to "push for a policy, training and expectation that flight attendants and all airlines are trained and prepared to protect their passengers, by removing the problem and not those affected by the problem."
In response, United stated that it would be working with local authorities to conduct a "review" of the incident.
"We have zero tolerance for this type of behavior and our pilot requested that local law enforcement meet the aircraft on arrival in Buffalo, after which authorities removed the customer from the flight," a spokesperson for United said in a written statement obtained by Fox News.
"We are conducting our own internal review and will support any investigation by local authorities."
FOLLOW US ON FACEBOOK FOR MORE FOX LIFESTYLE NEWS
This is the second time this month that a United Airlines passenger has accused a fellow flyer of sexual harassment.
On Dec. 5, a woman on a flight from New Jersey to Charlotte, N.C., said a 73-year-old man placed his hand between her legs and groped her mid-flight.
The man, who claimed his hand merely fell in her lap, was removed from the flight by police upon landing.