United gives passenger $10,000 travel credit to give up her seat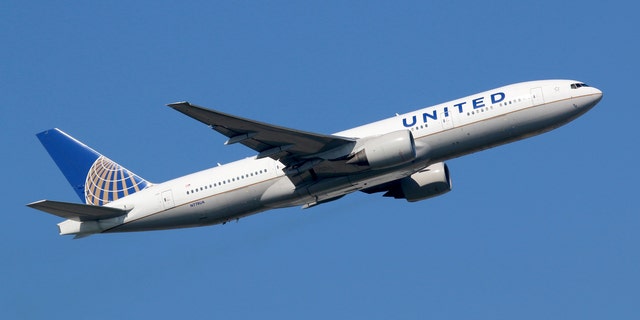 One woman flying United from Washington, D.C. to Austin, Texas was shocked when the carrier offered her a $10,000 travel credit to give up her seat on an oversold flight.
Shortly after 8 a.m. on Thursday, Allison Preiss took to Twitter to express her frustration with United as she flew from Dulles International Airport to a bachelorette weekend in the Lone Star state.
"@united offering $1K in travel credit for an oversold flight. If nobody bites, they will kick off the lowest fare passenger by pulling them out of the boarding line," wrote Preiss, who is communications director at Washington D.C.-based Center for American Progress. "For a flight that THEY oversold. Unreal."
SPIRIT AIRLINES APOLOGIZES TO PARKLAND SHOOTING SURVIVOR FOR FLIGHT ATTENDANT'S POLITICAL STATEMENT
In a series of subsequent posts, Preiss detailed that United removed her from the flight and wouldn't let her board again as her intended seat was broken.
"I AM THE LOWEST FARE PASSENGER."
"They are kicking me off this flight."
"They can't board me on this plane because there is a broken seat."
Describing the carrier as "the worst," Preiss further divulged that United then "tried to get me to sign a document that says I volunteered my seat on this plane when I was involuntarily denied boarding," which she dubbed "Sketchy af."
"On the upside, I wasn't physically dragged off the plane and my dog wasn't killed on board, so I've got that going for me...which is nice," she mused, referencing the infamous scandal in which Dr. David Dao was dragged off an April 2017 flight and the March death of a dog who passed away in the high skies when he was wrongfully placed in an overhead bin for the duration of the flight.
"They really do not want to give me cash. They just offered me $10,000 in travel credit. TEN THOUSAND," Preiss wrote, sharing a photo of the waiver.
FRONTIER AIRLINES KICKED OFF PROFESSIONAL SKATEBOARDER BECAUSE OF HIS SHIRT LOGO, MAN CLAIMS
She said that while the airline denied her lounge access for her troubles, they did give her vouchers for two meals at Pizza Hut.
Though it is not clear at this time how the rest of Preiss' journey transpired, she did make it known that she did not eat any of the fast-food pizza.
Preiss she did not immediately return Fox New's request for comment.
FOLLOW US ON FACEBOOK FOR MORE FOX LIFESTYLE NEWS
United offered Fox News the following statement on the matter:
"We issued this voucher per our policy," a media relations spokesperson said.
Though airline drama continues to make headlines across nearly all major carriers, Americans apparently can't get enough of it.
On March 22, the U.S. Transportation Department reported that in 2017 airlines carried 3.4 percent more passengers on U.S. domestic and international flights, with an all-time high of 965 million passengers.