United employee pushes 71-year-old man to the ground, airline issues apology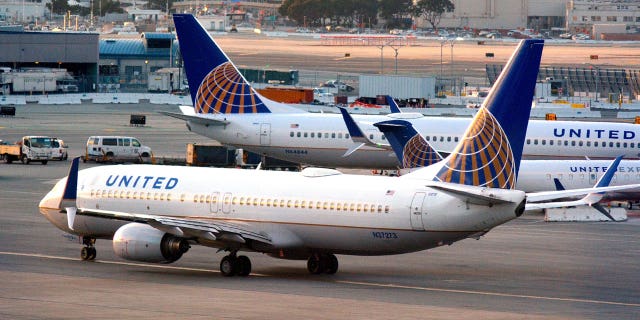 NEWYou can now listen to Fox News articles!
United we stand … and United we violently fall to the ground?
United Airlines was forced to apologize on Tuesday for a shocking incident that took place at an airport in Houston, Texas, in July 2015.
In footage of the incident, which was obtained by Houston news outlet KPRC-TV, a United employee appears to shove a 71-year-old passenger named Ronald Tigner, who then falls to the ground in full view of other passengers at George Bush Intercontinental Airport.
UNITED AIRLINES FLIES WOMAN TO SAN FRANCISCO INSTEAD OF FRANCE
Tigner is now filing a lawsuit against the airline, as well as the employee who shoved him and a separate employee, whom he believed to be negligent.
"This is just one of the most inhumane things I've ever seen in my life," Tigner's attorney, William Hoke, told KPRC.
According to his lawyer, Tigner was merely trying to get the attention of a United employee in order to reprint his boarding pass, which had become "garbled." BUt instead of helping Tigner, Hoke says the United employee — who has been identified as Alejandro Anastasia — merely smiled at him and said, "Can't you see we're busy?"
Tigner reportedly responded by saying, "wipe that smile off your face," and that's when Anastasia cursed at him and shoved him down.
FOLLOW US ON FACEBOOK FOR MORE FOX LIFESTYLE NEWS
Tigner's attorney also claims that Tigner was knocked unconscious when his head hit the ground, and yet no one came to his aid for minutes.
"He lies there lifeless for minutes. Not one employee comes to check on him," Hoke told KPRC. "No one even went to check his pulse. They literally left him there like a piece of garbage."
Audio of a subsequent 911 call was later shared by KPRC, during which a United employee can be heard telling the operator that a "70-year-old man … had fallen down." At the time, the employee did not know the cause of the man's fall.
In a statement obtained by Fox News, United has vowed to apologize to Tigner and "make this right." United also confirmed that Anastasia no longer works for the airline.
UNITED PASSENGER DRAGGED FROM FLIGHT SETTLES FOR UNDISCLOSED AMOUNT
"We have seen the video from 2015 that shows completely unacceptable behavior by a United employee," writes United. "This employee was terminated from United in August 2015 following the incident. The conduct shown here does not reflect our values or our commitment to treat all of our customers with respect and dignity. We are taking a thorough look into what happened here and reaching out to our customer to profusely apologize for what occurred and to make this right."
According to KPRC, Anastasia had been charged with a felony after pushing Tigner. He was also ordered to pay a fine, attend anger-management classes, and write Tigner an apology.
Tigner is now seeking $1 million in damages.