United changes emotional support animal policy after peacock fiasco
Well, that didn't fly.
In the wake of a now-viral story about a woman and her emotional support peacock being denied entry on a United Airlines flight departing Newark Liberty International Airport, which Fox News first reported on Jan. 31, the airline has officially tightened up its policy for traveling with emotional support animals, a move that they say has been months in the making.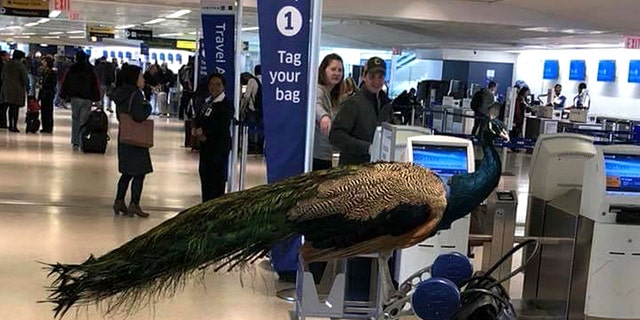 Company spokesman Charlie Hobart told Fox News that the Newark airport peacock incident "had absolutely nothing to do with" the new measures.
'SERIAL STOWAWAY' HAS OUTBURST DURING COURT APPEARANCE AFTER LATEST ARREST AT CHICAGO AIRPORT
"[The new policy] had been in the works for quite some time. The peacock incident was completely coincidental, and it did help illustrate to a wider audience the need for clarification and greater enhanced regulations," Hobart said. He added the new policy does not affect United's rules for traveling with service animals.
"Year over year, we have seen a 75 percent increase in customers bringing emotional support animals on board and as a result have experienced a significant increase in onboard incidents involving these animals. We understand that other carriers are seeing similar trends," the company said in a press release.
"The Department of Transportation's rules regarding emotional support animals are not working as they were intended to, prompting us to change our approach in order to ensure a safe and pleasant travel experience for all of our customers."
Apparently, the number of comfort animals flying United leapt from 43,000 in 2016 to 76,000 in 2017, Hobart confirmed to USA Today. The news coincides with the Jan. 28 incident, in which United refused to let Dexter the peacock on board a flight from Newark to Los Angeles, though his owner offered to purchase an extra ticket for the bird on the spot.
"The old policy was in place and that policy prevented Dexter the peacock from boarding the aircraft. The policy worked as intended," Hobart said of the matter. "With all of the commotion regarding the peacock, that has sort of crystallized to our employees and customers why we need to further enhance this policy."
UNITED HONORS PLANE TICKET MAN FOUND FROM 19 YEARS AGO
Effective March 1, United's new restrictions require customers flying emotional support animals to give the airline 48 hours' notice in addition to a letter from a mental health professional, confirmation of the animal's training and a clear record of health for the animal from a veterinarian, the press release states.
Taking effect on the same day as Delta's similar regulations, the airline's controversial crackdown on emotional support animals cited an 84 percent increase in ill animal behavior such as urinating, defecating, biting and attacks on flights as impetus for the change.
As the topic of emotional support and service animals continues to make headlines, Dexter the peacock has not let the incident slow his journey. The bird, who resides in Brooklyn with an artist named Ventiko, boasts over 12,000 followers on Instagram and is currently driving cross-country to the West coast — no airline wings needed.