Intoxicated passenger at Orlando airport filmed fighting with JetBlue staff, resisting police
An airline passenger has been arrested for disorderly intoxication, resisting officers and assaulting police after getting into a confrontation with a JetBlue employee – and later cops – at the Orlando International Airport (MCO).
The aggressive traveler, who was traveling with his 8-year-old son, was arrested on Sunday evening after the Orlando Police Department received multiple calls about an intoxicated individual at MCO's Gate 3, according to an arrest affidavit obtained from the Orlando PD's Public Information Officer.
BRITISH AIRWAYS PASSENGER CLAIMS HE SAT IN URINE: IT WAS 'DISGUSTING'
A JetBlue employee who spoke with police said the intoxicated man, identified as Brandon Strong of Utah, had verbally harassed a female passenger and was told he would not be able to fly that day. He then began to wrestle with the JetBlue employee, while other passengers jumped in to try and hold him back.
Strong's son was looked after by JetBlue employees until a member of his family arrived.
Footage taken from inside the terminal shows the man was also yelling that he "didn't f---ing punch him," presumably referring to the JetBlue employee. He then appears to take a swing at an airport employee.
An officer with the OPD responded to the scene, and said Strong smelled of alcohol and refused to comply by putting down his bags. The officer warned him multiple times before using pepper spray and swept his leg to take him down.
According to the arrest affidavit, Strong ripped the officer's radio from his vest and removed magazine rounds from the officer's holster while they were fighting on the ground. Another JetBlue employee came to the officer's aid, according to the report.
RYANAIR SLAMMED FOR NOT REMOVING PASSENGER WHO USED RACIST LANGUAGE
Additional police responded to remove Strong from the terminal, but the man refused to walk on his own, and kicked at one of the officers trying to carry him away from the gate, causing them both to fall, police said.
In another video shared to Twitter, officers were seen once again dragging Strong from the terminal, this time as onlookers cheered.
A spokeswoman for the airport said the man's actions delayed the flight, which was leaving from Orlando to Salt Lake City, by about two hours, WKMG reported. The fire department also responded to the scene to treat passengers affected by the pepper spray fumes.
FOLLOW US ON FACEBOOK FOR MORE FOX LIFESTYLE NEWS
Strong was transported to the Orange County Jail, per the arrest affidavit, but continued to lash out, telling police he would "come after [the officer] with everything he's got," and claiming he had connections to the White House.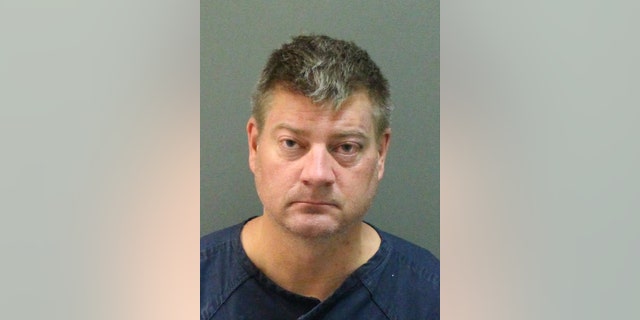 Strong was charged with battery on a law enforcement officer; depriving an officer of means of protection; resisting an officer with and without violence, child neglect; disorderly intoxication; and battery.