TSA denies claim that they are randomly screening travelers' snacks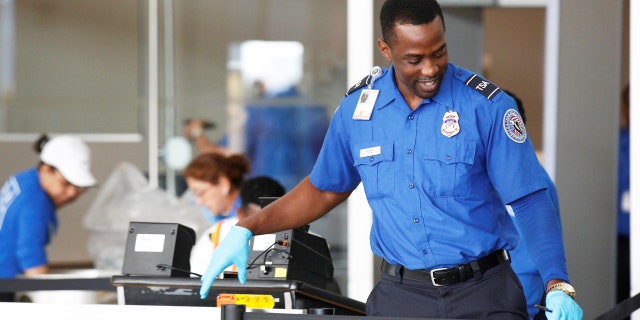 NEWYou can now listen to Fox News articles!
Better hang on tight to those potato chips — the Transportation Security Administration is being accused of ramping up security when it comes to screening snack foods.
In recent weeks, people traveling through Atlanta, Los Angeles, San Francisco and Newark, N.J. airports have been sporadically asked by TSA officials to remove food from carry-on bags in airport security checkpoint lines, USA Today is reporting. One passenger even told the outlet that a TSA officer told him the snack check was part of a new policy to debut nationwide in May.
WOMAN KEPT OFF WOW FLIGHT FOR NOT HAVING MIDDLE NAME ON BOARDING PASS
in one March 26 incident, a passenger named Sree Sreenivasan said he was flying from Newark Liberty International Airport to Toronto, and had lined up at a checkpoint next to travelers speaking limited English, who were all heading for a 15-hour flight to India. Sreenivasan said he helped translate between TSA staffers and the group, but that the travelers were taken aback by the request to place their foil-wrapped food in bins to pass through X-ray machines.
Sreenivasan said the TSA officials were "unfailingly polite" through the encounter, but later mused on Twitter that the "confusing" ruling could prove problematic in the future.
"Are they going to search every roti, every rice? That's crazy," Sreenivasan said, as quoted by USA Today.
Some of Sreenivasan's fellow travelers also questioned whether TSA staffers would change their gloves after touching each traveler's food in the future, he claimed.
However, a TSA spokesperson told Fox News that there is no new policy regarding food screening at airport security, despite reports to the contrary.
"There is no policy that requires travelers to remove food from their carry-on bags, and there are no changes to what food items can be brought through an airport security checkpoint," stated the TSA representative. "TSA officers may request that food and other items be removed to facilitate the screening process by helping to declutter carry-on bags. This enables TSA officers to obtain clearer x-ray images of the bag."
MAN'S HANDMADE KNIT SWEATERS OF FAMOUS LANDMARKS ARE WINNING OVER THE INTERNET
Concerns over exposure to allergens is a growing issue among the air travel community, as young boys aboard American Airlines and Southwest flights have recently made headlines for suffering near-fatal allergic reactions to nuts on board.
Though checking food is certainly a valid safety precaution and the TSA's website clearly details what items are not permitted on board, air travelers are feeling frustrated that the food inspection policies are not uniform across domestic airports. Many have taken to Twitter to voice their dissent – and confusion – with what's going on.
FOLLOW US ON FACEBOOK FOR MORE FOX LIFESTYLE NEWS