Trump tweets 'good news' about death-free year in commercial aviation industry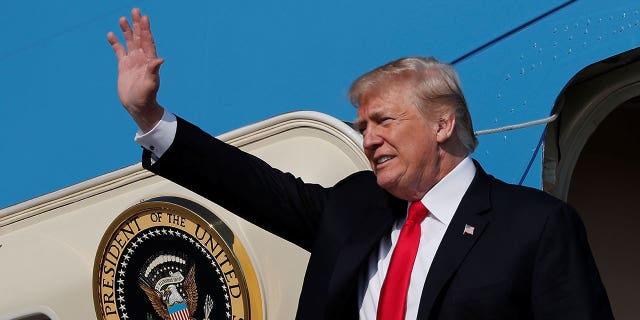 President Trump took to Twitter on Tuesday morning to report some good news concerning the commercial aviation industry. Namely, that there wasn't a single commercial aviation-related death in 2017.
Trump's announcement, however, has come under scrutiny from the media and Twitter users alike — but not because it makes a dubious claim. Rather, he's being criticized by those who felt he took credit for the statistic.
"Since taking office I have been very strict on Commercial Aviation," wrote Trump in the tweet, which he posted at 9:13 a.m. "Good news — it was just reported that there were Zero deaths in 2017, the best and safest year on record!"
SOUTHWEST BOOTED FAMILY AFTER FALSE CONCERNS OF LICE, SAYS
The report to which Trump was likely referring was conducted by the Aviation Safety Network (ASN), a Dutch affiliate of the non-profit Flight Safety Foundation, The Wall Street Journal said. According to their statistics, not only were there no airline passenger fatalities recorded among U.S.-based carriers, but anywhere in the world. As a result, the ASN ultimately declared 2017 "the safest year in aviation history."
Despite the good news, the ASN did report on 10 fatal airline accidents that occurred in 2017, but the Wall Street Journal explained that half of those involved cargo planes and the other half propeller-powered aircraft.
Trump's tweet, then, is factually accurate, though critics argue that it isn't due to any of his "strict" policies. The Atlantic, for example, argued that the statistic detailed in the report refers to the global fatalities, and that the U.S. hasn't seen a commercial aviation fatality since 2009, or long before he took office.
MECHANICAL ISSUE ON AMERICAN AIRLINES FLIGHT SENDS 4 TO HOSPITAL
John Cox, an airline consultant who spoke with the Wall Street Journal, also stated that the numbers were "the culmination of decades of work by thousands of people" and did not attribute them to any one person, although he was not specifically commenting on the president's tweet.
Additionally, some of Trump's critics on Twitter were appalled by the presumption they believed the president was making in his tweet.
FOLLOW US ON FACEBOOK FOR MORE FOX LIFESTYLE NEWS
The ASN reports that the last fatal jet airliner accident occurred on Nov. 28, 2016, when a LaMia flight from Bolivia to Colombia crashed after suffering an electrical failure.
The accident claimed the lives of 71 passengers and crew, including the majority of the Brazilian Chapecoense soccer team, who had been traveling to a match in Medellín.