Traveling in the aftermath of Sandy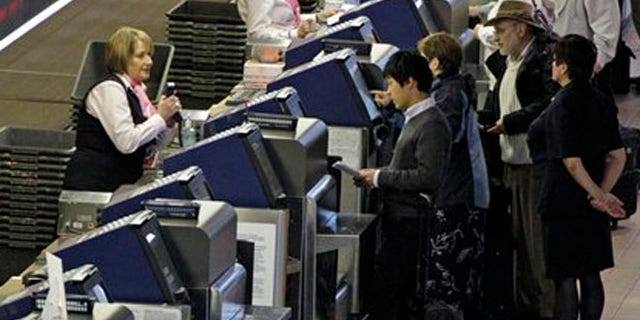 With Hurricane Sandy devastating the East Coast this week, our thoughts and prayers go out to the millions who've been affected by the storm.
With travel on everyone's mind, and many of our friends and colleagues left stranded, it's important to use all the tools available to you, and most of all be patient when rescheduling travel. With that in mind, I've compiled several stress-reducing and money-saving tips for traveling in the aftermath of Sandy, or in any other event that greatly impacts travel patterns.
Air travel will be tough, but not impossible
With flights cancelled left and right, and airlines keeping their planes full year-round to begin with, re-booking flights will probably be the most difficult and frustrating thing you'll have to do as a stranded traveler. But your smartphone can be your best ally.
First and foremost, remember to save your airline's phone number in your speed dial and download its app as well. When cancellations and delays happen, this will help you quickly get ahold of your airline and get them the proper information to be the first person in line for a re-booking.
If you can't get through to reservations, keep trying, but you also might want to try the dedicated number for your loyalty program or use the number for your 3rd party booking service – for example, American Express Travel. These numbers are often dealing with lower call volumes and you might have a better chance of getting through.
Most of all, accept that finding a new flight can potentially take a long time and try to relax as much as you can. If you know you're not getting out for multiple days, as is the case for so many who weathered Sandy, try to leave the airport and get somewhere comfortable like a café, hotel, or a friend's house before you work with the airline. When making those rescheduling calls, make sure your cellphone battery is charged and that you have a strong signal and give a callback number to the agent as soon as you get through. If you're on the phone with an agent, but get disconnected, and they don't have a number to call back on, you will have to start at the back of the line once you call back in.
Lastly, know your airline's policies in cases of natural disasters. Many airlines will have policies in place to help travelers pre- and post-disaster posted on their site. Be sure to read them to get a sense of your rights so that you come armed to any conversation with knowledge that will help you rebook quickly.
What to know about hotels
If your flight is cancelled or postponed because of inclement weather, you'll likely need a place to stay. Smartphones apps can help you find one quickly, before properties can fill up with other frustrated travelers. With many apps, you can view the hotels closest to you, their pricing and availability, and even book in a matter of minutes.
When disaster strikes, the location of the hotel will matter even more than usual. The hotels closest to the airport are likely to be the most crowded, stressful and expensive. Meanwhile, hotels on the outskirts of town will be cheaper, less crowded and will probably provide an overall better stay, considering staff and other guests won't be as frazzled. To save some additional dollars, look for economy or mid-level properties at the 2.5 or 3-star level. These hotels cater to business travelers and are often new or updated regularly, so they have modern but basic conveniences and many offer free breakfast.
If you still can't find a room or you can't find anything reasonable, you may also want to try a non-hotel alternative like Airbnb.com, which offers rentals by owners, or even Couchsurfing.com, where you can find some altruistic folks who will offer some space while you're stranded.
Hit the road
Yet another option for coping is to just get out of town. While the airport closest to you might be shut down by the storm, the one over the state border might be resuming flights. For example, planes are taking off from airports in Boston and Philly right now, several days before they will in NY and NJ. It might also be simpler to just drive home if you're in the same general region, or you might just want to wait out the delay with family or friends in a nearby city that wasn't hit as hard.
To get to one of these better locations, you could take public transportation if it's running or rent a car. The good news is that car rental agencies don't raise their rates any more than normal when there's a natural disaster or state of emergency, so one-way rates should be similar to what they were last week. In particular, Enterprise, Alamo, and National are not only keeping rates low, but if a customer is in need of a one-way car due to Sandy, they're waiving the one-way fees and giving folks a regular rate. No matter which agency you use, start with discount websites like Hotwire to try to find the lowest rates possible.
You might also want to call the rental agencies and ask if they're offering any discounts to help travelers through the bad weather. They may offer you discounts if you're a member of their loyalty program or AAA. You could also try using airline miles or credit card points to bring down the cost, or perhaps to cover the cost of the rental entirely. While it's highly unlikely that you'll be able to use miles to get on a flight when there are lots of cancellations and delays, you should be able to use them on a car rental. If you don't need to go too far away, you should also consider apps like Uber that can get you a car service quickly during a time when taxi cabs are hard to come by.
Disruptive weather sends everyone into a tailspin. You might be a traveler frustrated that your flight's been cancelled, but the service professionals in the hospitality industry – the people on the other side of the front desk at your hotel or on the other end of the line at the airline – are also working through a difficult time. They're likely dealing with long, stressful shifts and upset, scared customers, and may even be coping with their own storm impact. So my final tip is that it pays to be nice. Doing so will ensure that the service pro will remember you and your case and help you as quickly as they can. Beyond that, with so many people in the same difficult situation, it always pays to pull together with others, especially in a time of crisis.