Touring NYC on Two Wheels Getting Easier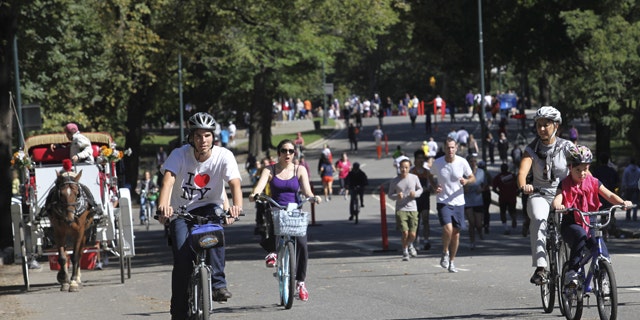 NEW YORK – In his essay "Taming the Bicycle," Mark Twain cautiously recommended bicycling: "You will not regret it, if you live."
That has always gone doubly for biking in New York.
But the city has undergone a two-wheeled makeover. In the last four years, the New York City Department of Transportation has added more than 200 miles of bikes lanes. The number of cyclists has increased 80 percent in the past decade. The city's goal is 1,800 miles of total bike lanes by 2030.
Earlier this year, National Geographic Traveler magazine did something that might once have been unthinkable: It put New York on a list of the most bike-friendly cities in the country, alongside Portland, Ore.
While biking has exploded for New Yorkers, tourists are quietly following. It is, after all, a great way to experience a new place: Faster than walking so you can cover a lot of ground, but far closer to your surroundings than a car.
In New York, it can be dizzying: rolling past Washington Square Park one moment, breezing along the Hudson the next. In a city where freedom of movement can often feel locked in gridlock, on a bike, one sails through the throngs.
Musician and New Yorker David Byrne wrote in his 2009 book "Bicycle Diaries" that riding through a city "is like navigating the collective neural pathways of some vast global mind."
The "neural pathways" of New York, though, are often strewn with potholes, aggressive drivers, unobservant pedestrians and — often the worst of all — pushy cyclists. New York has been significantly tamed when it comes to biking, but it's not exactly Amsterdam.
Nevertheless, tourists, having long endured double-decker buses and plodding ferries, are understandably looking for a new vantage point. A number of tours have sprung up and found visitors willing to strap on a helmet.
"A bus tour just did not hold the same appeal to me — it's too passive," said Michelle Wright, 45, of Graham, N.C.
Recently, Wright and her two kids — a 15-year-old daughter and a 12-year-old son — did a tour of the Brooklyn Bridge and along the Hudson River through Bike and Roll NYC. The company has several locations for renting bikes, including Pier 84, near 12th Avenue and 43rd Street; Battery Park, and Central Park at Columbus Circle. The Pier 84 location provides easy access to the bike path along the city's relatively new but much-cherished Hudson River Greenway, which runs along the West Side of Manhattan from Battery Park at the southern tip to Dyckman Street on the northern tip.
Bike and Roll NYC tours ($40-50, two to three hours) depart daily; popular routes include Central Park and the Brooklyn Bridge. The company is listed among sightseeing choices on discounted visitor passes like the Explorer Pass.
"I felt very safe," said Wright. "More often than not, we were on a designated greenway. We felt the most in danger from the manic bikers on the Brooklyn Bridge."
The tour guide, too, made Wright feel like she was "sneaking in a little bit of historical sightseeing on my kids without them realizing it." A bike rental, a helmet and water were included, as is the case with most tours.
Gary Deliz, 26, visited New York earlier this year with his girlfriend. They chose a Central Park tour, thinking they could save a little time on their itinerary.
"If you didn't do the tour, you wouldn't know where to start," said Deliz of Central Park. "It's so big!"
There are other tour companies, too, such as the Central Park Bike Tour, with tours generally around $50-65. In addition to its Central Park route, the company also offers a Harlem tour, a nighttime tour and an architecture-focused tour. Some of the more arduous rides are only for those 18 and older.
More distinctive tours are given by Bike the Big Apple. Their expeditions generally cost around $90, but they're longer (approximately six hours). They include an "Ethnic Apple" tour through multiple boroughs, a Friday nightlife tour and tours before and after the New York marathon — an "urban mosaic" tour and a "mellow-out/recovery" tour, respectively. They're also doing a special Halloween "Tour de Frights."
Just note that most bike tour and rental companies do less business in late fall and winter than in the warmer months, so call ahead to check on schedules.
Becky Greenberg, 65, came from St. Augustine, Fla., with her 79-year-old husband. They've spent many summers biking on Cape Cod, which got them accustomed to "lovely, twisting bike paths."
They did a Brooklyn Bridge tour and found it to be "such an adventure."
"Congestion is a friend to bikers," Greenberg said of the traffic they sped past.
Tours are a good option for visitors who are nervous about biking without a guide and those looking for maximum safety. But a bicycle, after all, is built for one, and many may prefer to explore on their own.
Both Central Park and the Hudson River Greenway offer straightforward routes that are hard to get lost on. You might want to plan on some stops, too, like a drink at the Boat Basin Cafe on West 79th Street along the Hudson, or to relax in Sheep Meadow in Central Park.
Or you might have your own destinations in mind. Maybe you want to meander around the cozy streets of Greenwich Village, or simply get lost. Cyclists may feel most at home in Brooklyn, where — particularly in neighborhoods like Park Slope and Williamsburg — biking is practically the preferred mode of travel. In summer and early fall, free ferries can take you to the bike paths of Governors Island, located in New York Harbor.
It's not difficult to rent bikes and make your own routes, even if you're an out-of-towner. The website Ride the City can steer you on the safest course (one of mostly bike lanes) and gives you all the nearest bike shops. Google Maps also offers directions by bike.
But setting off unguided, while offering more freedom, can also mean more trouble.
Stewart Hunt, 51, of Dallas, and his two teenage stepsons earlier this year rented bikes in the city.
"We went there and thought, 'Oh, this will be a kick,'" said Hunt. "Then we realized there were things you had to be aware of."
They began to feel some trepidation after seeing a cyclist hit by a cab. They had difficulty finding the onramp to the Brooklyn Bridge, where they also had to wrestle with large crowds and fast native bikers.
Hunt said their trip was still a great experience and that he'd do it again, though next time he said: "I'd study the map a whole lot more."
Crime is a consideration as well. Never leave a bike unattended without a secure lock, not even for a moment. And if someone — even a kid — says, "Hey, can I see your bike for a minute?" — don't be a fool. Grab your handlebars tight and ride away.
More ambitious cyclists may want to plan their visit around the annual Five Boro Bike Tour, a 42-mile ride through all five boroughs that drew more than 30,000 participants last year. The next ride is scheduled for May 1, 2011; registration begins in February.
There's even mountain biking in New York on trails in Highbridge Park in Upper Manhattan and Cunningham Park in Queens — a good option for those who like thick tires and irony.
New York is actually home to the oldest bike path in the country: the Ocean Parkway bike path in Brooklyn, which begins near the southeast corner of Prospect Park and ends in Coney Island. Constructed in 1894 and designed by Frederick Olmsted and Calvert Vaux (the designers of Central Park and Prospect Park), it's a designated landmark.
New York, it turns out, has always been a bike town.