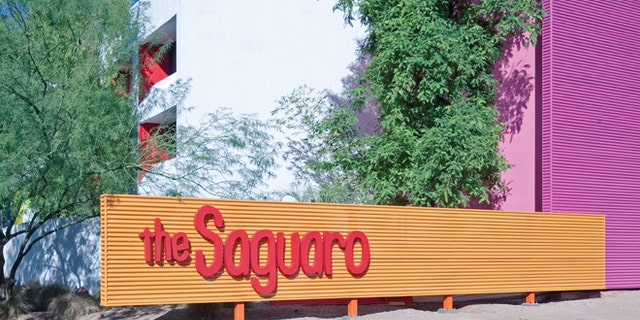 Check in, check out. That's not all we really want from a hotel. Not anymore, anyway. We want an experience. Something to remember. Something we can't necessarily get at home. These are just some of the criteria we used to narrow down the list of 2012's top ten hotels in the United States. It wasn't easy. But there are some great newcomers to the scene: from hip industrial-chic properties in Brooklyn to stylish B&Bs in Boston to Bohemian-cool hotels in the Big Easy. Here is our list of the ten best new hotels of 2012.
LOUISIANA
New Orleans
The Hotel Modern
www.thehotelmodern.com
In the space that once housed Hotel Le Cirque, the Modern has wiped away some of the whimsy: gone is the fantastical, multi-colored, Vegas-like light show on the building's façade. And in are a hodgepodge of gadgets and furnishings, like crystal chandeliers and old wooden coffee tables. The hotel was designed by Klaus Ortlieb, the man behind properties like the Mondrian and the Standard in Los Angeles and the Mercer in New York. The lobby consists of a small wine bar, a cozy library and a real live parrot. Rooms are a mix of old and new — complete with leather-bound books, antiques and garishly purple walls — in order to give them that lived-in feeling. The in-house eatery, Tamarind by Dominique, serves up contemporary French-Vietnamese fare, a reference to New Orleans' Gallic past and its contemporarily large Vietnamese community.
NEW YORK
New York
Wythe Hotel
www.wythehotel.com
A few years ago, a sleek hotel would have been unimaginable in Williamsburg, a ramshackle swath of Brooklyn known for its hipster population. But with luxury condos and a handful of very good restaurants popping up, so, too, do the hotels. Set on a once-desolate block in a former factory, the Wythe is well situated to take advantage of the neighborhood: the hip Brooklyn Bowl, which hosts concerts and parties, is across the street. But if you don't feel like leaving the property, there are plenty of in-house amusements as well: some of the industrial-chic rooms include commanding views of the Manhattan skyline, and all have radiant floor heating and free Wi-Fi. In-house restaurant Reynards serves up seasonal American fare, and was one of the most buzz-worthy openings of 2012.
CALIFORNIA
Napa
Andaz Napa
www.napa.andaz.hyatt.com
The hip Andaz outfit lands in Napa — specifically, in the burgeoning West End, which has recently reinvented itself with cool new restaurants, cafés and this very hotel. As one would expect, wine seems to flow abundantly in one way or another. Hues of Bordeaux accent the 141 rooms, which are equipped with free Wi-Fi, blackout drapes and an in-room coffee maker. The on-premises restaurant, Farmer's Table, concocts local, seasonal fare and the lounge-y wine bar, Mercantile Social, is loaded with local wine. And if that's not enough, there are over a dozen vino tasting rooms within a few minutes' drive from the hotel.
NEW YORK
New York
The NoMad Hotel
www.thenomadhotel.com
Until a few years ago, the neighborhood north of Madison Square Park was an area of Manhattan that didn't have a name. But then a few hotels and restaurants began sprouting up, all hip enough that the area suddenly warranted not just a name but a name with an acronym. And NoMad, North of Madison Square, the neighborhood, was born. And soon after that, the painfully cool The NoMad Hotel also came onto the scene. Its 168 rooms seem designed to feel like home and to inspire guests to stay a while, with hardwood floors and comfy Persian rugs. The ground-floor restaurant of the same name, serving elevated American fare, is run by acclaimed chef Daniel Humm (who also helms the kitchen at nearby Eleven Madison Park).
ILLINOIS
Chicago
The IVY
www.exploreivy.com
A luxe-meets-green boutique hotel in the Second City? Yes, please. This centrally located property has only 63 earth-toned rooms that boast 400-thread-count Egyptian-made sheets, a rain shower, a plus-sized tub and Wi-Fi. All this means guests don't get lost in the shuffle. And you can feel good about the hotel's environmentally friendly policies: eco-friendly products are used to clean the rooms, everything that can be is recycled, and energy and water are conserved. The fifteenth-floor restaurant serves comfort food with an Asian twist, offering a view of the city that's delicious to the eyes.
NEW JERSEY
Atlantic City
Revel
www.revelresorts.com
Bringing a bit of sophistication and style to Atlantic City, this sleek hotel on twenty acres of beachfront property boasts two nightclubs, one day club, ten swimming pools, fourteen restaurants and three live music venues. And of course, there's plenty of gaming at the resort, but the higher-brow design of the place eschews the tackiness one might usually find in the large gambling halls. Rooms are ultra-comfy with plush bedding, floor-to-ceiling windows (ask for an ocean-facing room) and marble-tiled bathrooms. It's all a bit like escaping Atlantic City without actually going anywhere.
MASSACHUSETTS
Boston
Revere Hotel
www.reverehotel.com
Once a theater (and, after that, a Radisson hotel), the property was transformed into a Boston history-themed (Revere — get it?) luxury property. Today it features a handsome loft conference room (with reclaimed wood and exposed brick) and a restaurant, the Rustic Kitchen, emphasizing Italian cuisine with local produce. The 356 rooms are stylish, boasting balconies, hardwood floors, iPod docks, free Wi-Fi, and houndstooth chaise lounges. The indoor, heated swimming pool is perfect for a wintertime dip and the outdoor terrace is lovely for a summertime snifter. And as a nod to its former incarnation, there's also an in-house movie theater, occasionally showing indie flicks or private screenings.
PENNSYLVANIA
Philadelphia
Hotel Monaco Philadelphia
www.monaco-philadelphia.com
Housed in Philadelphia's historic Lafayette Building at the corner of 5th and Chestnut Streets in the heart of the City of Brotherly Love, this elegant, eleven-story, 268-room hotel is nicely situated for sightseeing: it's across from the Liberty Bell and Independence Hall. The colorful rooms have a Victorian bordello-chic vibe, complete with animal print bathrobes. The rooftop lounge, Stratus, lets guests take in the glittering city lights from eleven floors up, and the in-house eatery, Red Owl Tavern, serves up seasonal American fare from James Beard award-winning toque Guillermo Tellez.
UTAH
Park City
Washington School House
www.washingtonschoolhouse.com

Once an underwhelming B&B in the center of Park City, the property shut down and, under new ownership, reopened as a totally renovated boutique hotel in December 2011. The former 1889 schoolhouse made of quarried limestone maintains its historical authenticity while reimagining the stunning interior. The design team crafted 12 suites and rooms within the original structure, one of which has a soaring 16-foot-high ceiling (called the "16-Foot-High Ceiling Room," fittingly enough). Other rooms have chandeliers or modern art and/or antique furniture. And if you want to lounge in the room for a while, the staff provides iPads fully stocked with movies. School is in!
ARIZONA
Scottsdale
The Saguaro
www.jdvhotels.com
Joie de Vivre's first hotel outside of California, this intentionally kitschy 1960s motel sits on the edge of Scottsdale's Old Town. The large rooms are cool, colorful, and comfortable with iPod docking stations, large flat-screen TVs mounted on the wall, brightly striped throw-blankets on the bed, and wood and leather handicrafts and furniture made in Mexico. Talented chef Jose Garces is the top toque at in-house restaurant Distrito — the menu of which consists of small south-of-the-border-inspired plates and Mexico City street food favorites. The spa features a prickly-pear sugar scrub and other desert-sourced treatments. The heated outdoor pool is an eye pleaser, and the large palm trees, brightly colored deckchairs and cabanas make for a pleasant poolside afternoon.
MORE ON GAYOT.com
Photos and Reviews of the Top 10 New U.S. Hotels