The hipster's guide to hotels
Where do hipsters go when they want to lay their heads far from home? Why, to these stylish properties on the forefront of design and amenities. From art-curated hotels to cocoon showers, here's your hipster's guide to hotels in the U.S.
1. Surfer chic: The Goodland, Goleta, Calif.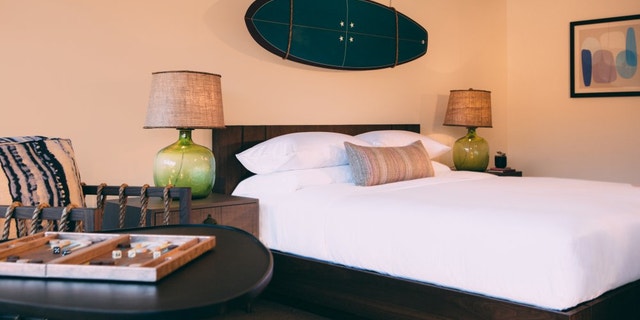 You've never seen SoCal like this. The Goodland in Goleta, just minutes from Santa Barbara and home to the University of California Santa Barbara, is a former Holiday Inn Express that has been turned into a hipster wonderland. Hip is ingrained in everything here, from the bottle-opener drawer pulls to the beaded curtains in the Outpost restaurant.
You'll know you're in the right place when you pass by the vintage Woody and Air Stream, a favorite hangout of local artists, parked out front. Enjoy the museum-quality art that dots the walls, including pieces by local graffiti artists.
Every room, sleek and stylish with a surfboard mounted above the bed, features a Crosley turntable for listening to your favorite vinyls, which you can borrow from the hotel's record concierge. Enjoy on-site yoga, pool parties with live music, weekly outdoor movies, the digital photo booth in the lobby and complimentary bike rentals. It's a 10-minute drive to Santa Barbara — or you can take the Amtrak. And don't miss the homemade Cracker Jacks at happy hour.
2. Beach mod: Viceroy Santa Monica, Santa Monica, Calif.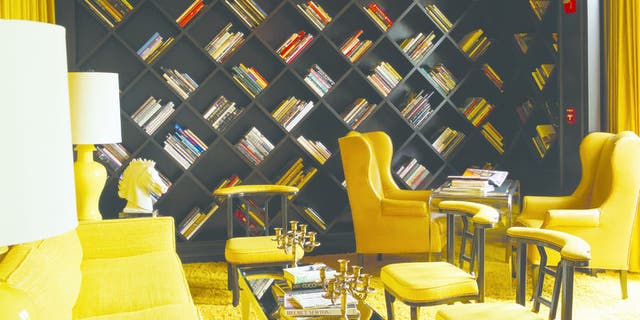 Just two hours south is another home for hipsters seeking a beachside respite from the throes of Los Angeles. The Viceroy Santa Monica, mere steps from the Santa Monica pier, offers a fantastic view of the Pacific.
From its bright yellow library to its sophisticated tented cabanas and outdoor pools, the Viceroy Santa Monica has a cosmopolitan coastal appeal. Rooms offer custom armoires instead of closets, Lucite and glass tables and pedestal sinks. Grab a house bike and head down the oceanside bicycle path to people-watch at Venice Beach. Hipsters won't want to miss the 3rd Street Promenade in Santa Monica and poolside yoga on weekends at the hotel.
3. Art appeal: The Alexander, Indianapolis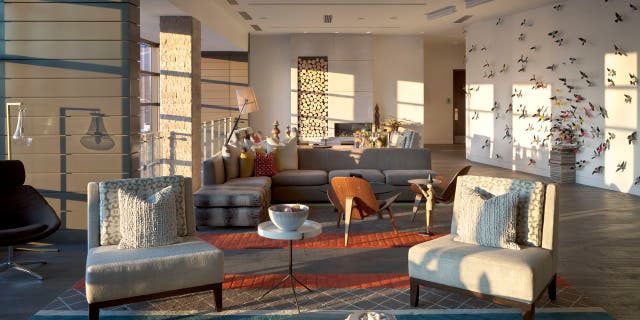 You might think the Midwest an unlikely spot for a hip hotel, but Indianapolis broke the mold last year. The Alexander is the first art-curated hotel that has partnered with an art museum — in this case the Indianapolis Museum of Art.
More than 40 works of art are woven throughout the downtown hotel, including a piece made entirely of hair combs depicting Indianapolis' own Madam C.J. Walker, America's first self-made woman millionaire (she worked in the beauty industry). There's also the birds in flight, made from old vinyl records with one from some other prominent Hoosiers, the Jackson 5, at the forefront.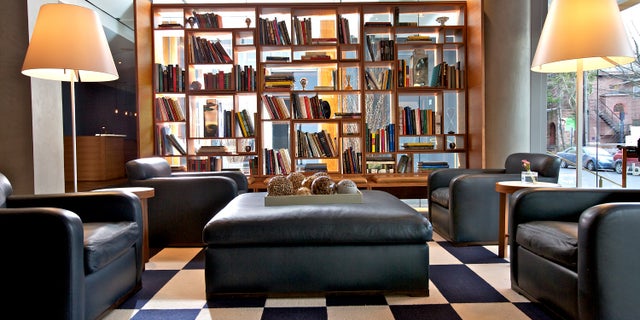 Each guest room has its own work of art, and the minimalist design makes the room feel spacious despite its standard size. Inside each room is a full-size refrigerator and mini-kitchen with utensils, closeted washer-dryer and a small dining table and chairs. Enjoy a view of the Indianapolis skyline, trendy Fountain Square and the Indianapolis Colts' Lucas Oil Stadium, and take a ride on a complimentary bike along Indianapolis' cultural trail.
4. Too cool for school: The Study, New Haven, Conn.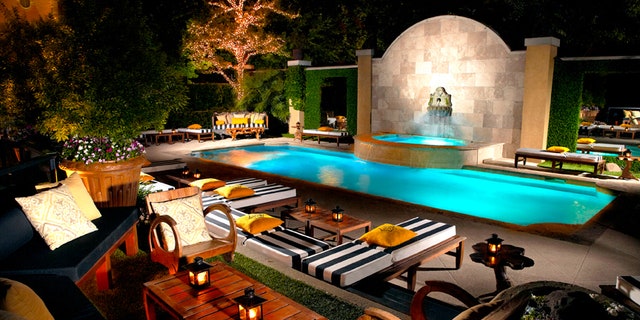 You don't have to be studious to stay at The Study on the campus of Yale University, but you can expect a professor-cool vibe. Designed as a sophisticated and stylish yet comfortable option for those visiting the campus or the New Haven area, this boutique hotel is best described as "cultured" from head to toe, with references to design, art and literature throughout. Photos of Yale line the walls and stacks of books (you might even spot a signed edition), newspapers and magazines are at every turn. Plenty of coffee, tea and snacks are available to keep your brain fueled at the 24-hour Lobby Café. Wireless access, for all your most studious needs, is free.
Desks are a highlight of the guest rooms, with a choice of an ergonomic chair or a soft leather chair and ottoman for delving deep into your book of choice. You'll find sleek marble bathrooms with glass showers and an in-room safe large enough to hold your laptop. Choose a suite for fantastic campus views and a fully stocked bookcase.
5. A surprise for the senses: Hotel ZaZa, Dallas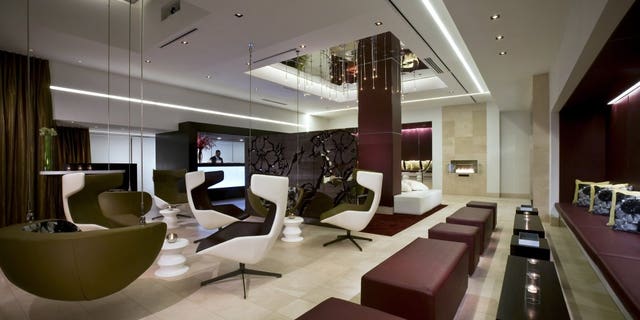 Hotel ZaZa describes itself as an "unexpected feast for the senses … with [its] whimsical imagination and friendly atmosphere." There's plenty to surprise the hipster, including"after school" snacks — Ho Hos and Twinkies — every afternoon and an unusual fleet of cars for transporting guests at no cost to anywhere within five miles of the hotel. You may find yourself in a Denali with Texas longhorns, a 1967 Cadillac hearse or a standard police department black-and-white detailed Crown Victoria.
Art is a focal point throughout all spaces of the hotel, and the lounge area and enclosed-in-winter rooftop pool with views of uptown Dallas is a hot spot. Rooms come with ergonomic desks and are richly detailed with deep hues and Mediterranean accents. Some rooms offer hardwood floors, 10-foot ceilings and garden terraces.
6. Capitol cool: Donovan House, Washington, D.C.
Kimpton Hotels recently renovated their Donovan House hotel at the entrance to the 14th Street district to fit right in with what Destination D.C. media relations manager Kate Gibbs calls "the happeningest stretch of dining and nightlife in the city."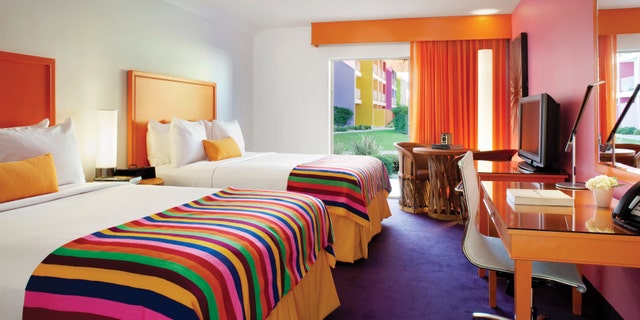 A sleek and stylish hub in the heart of the nation's capital, the Donovan House is a metropolitan alternative to traditional accommodations. Guests love to spend time at the DNV Rooftop Lounge, a bar and pool with tented cabanas and views of the "real" city: church spires and brownstones instead of monuments and government buildings.
Most guest rooms — described by the hotel as "Kyoto's minimalism crossed with Berlin's edginess circa 2020" — have floor-to-ceiling windows with views of Thomas Circle and a Plexiglass shower shaped as a "cocoon spiral." Be sure to Instagram yourself in one of the "bubble" chairs in the lobby.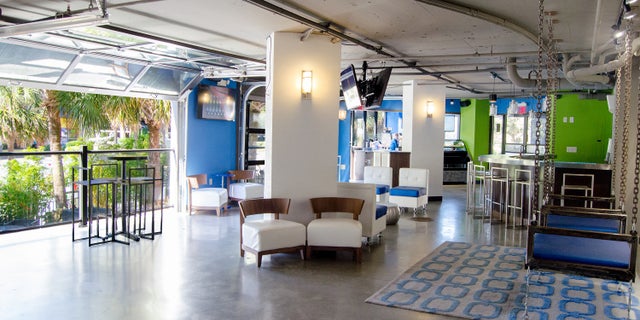 And now you can save at 12 of Kimpton's hotels in the Mid-Atlantic area. Book a room from December 19 – 30 for stay dates until March 31, 2015 and you can get rates starting at $119 per night plus a $25 daily credit that can be used for most anything at the hotel.
7. Get bright in the desert: Saguaro, Palm Springs, Calif.
A bright spot in Palm Springs is the Saguaro, known for its vibrant colors that reflect the flowers of the California desert and spirit of the Southwest. Built in 1965, it is an updated and stylish throwback to mid-century motels.
Guests can take in the surrounding mountains from the heated outdoor pool in the center of the property, which offers year-round pool parties and special events during Coachella. Sit under a brightly colored umbrella and enjoy views of the hotel facades in shades of bright pink, purple, green and orange. Guests love the ping pong table in the lobby and frequently take the house bikes for a ride until the sun sets on the desert.
8. Southern style: hotel Blue, Myrtle Beach, S.C.
At the beachfront hotel Blue along Myrtle Beach's Grand Strand, guests can enjoy fun in the Carolina sun throughout most of the year. The trendy hotel Blue is home to South Carolina's first oceanfront swim-up pool bar, MIXX, where you can order your drink of choice in the summer without stepping out of the water. The bar also plays host to Therapy, a hoppin' summertime pool party complete with DJ.
Other amenities include an oceanfront indoor hot tub and the indoor lazy river, where you can hop on your inner tube and just chill. Or you can head next doorto the 20-lane bowling alley at sister property Captain's Quarters. Inside each guest room at hotel Blue is a kitchen with full refrigerator, oven, microwave and cookware, as well as private balconies for taking in the view of the Atlantic Ocean.