The better Disney: Disney World vs. Disney Land smackdown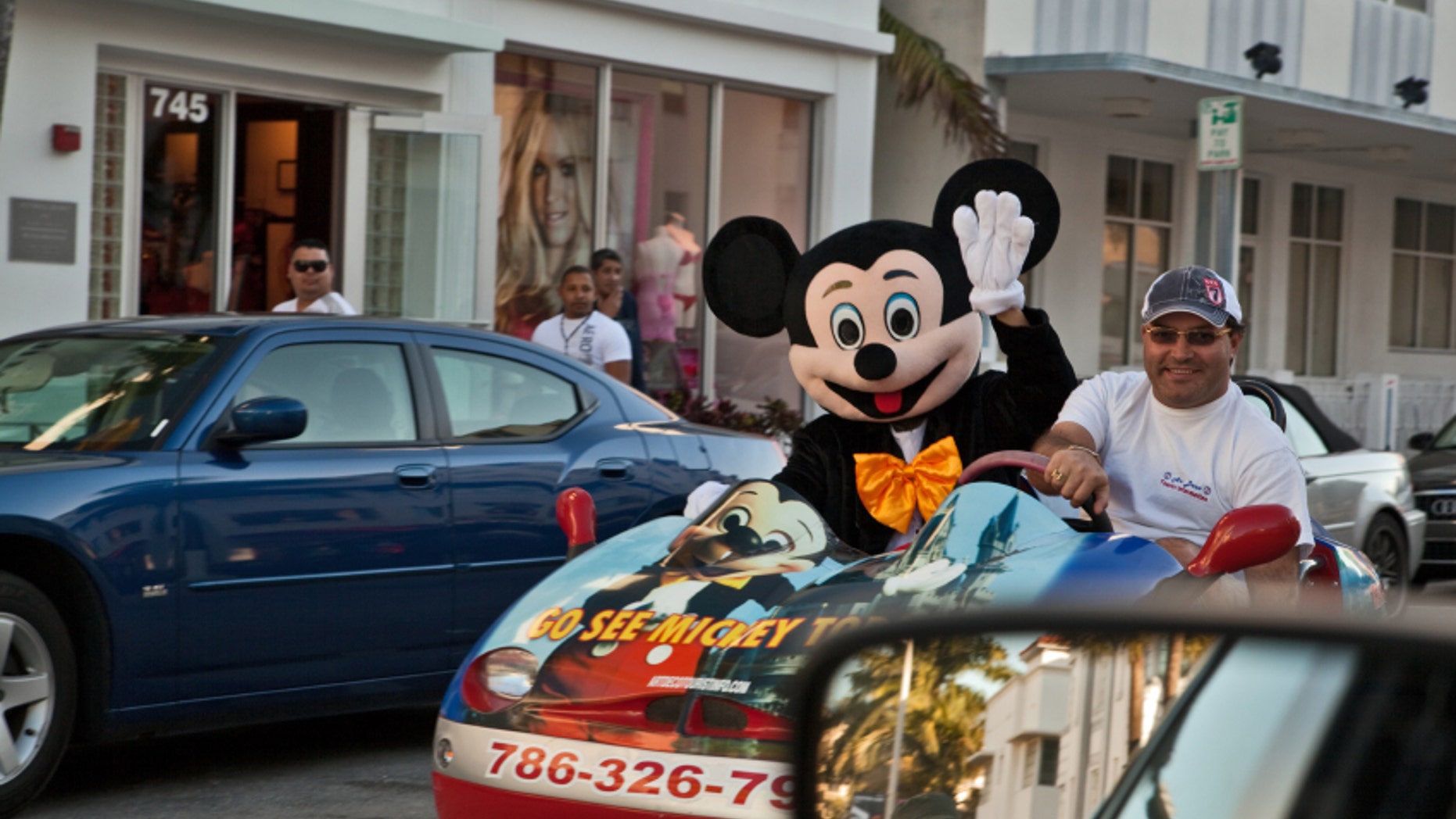 WALT DISNEY WORLD
Walt Disney World lives up to Disney's "Happiest Place on Earth" reputation in so many ways: the parades, the fireworks, the rides, the themed dinners, and the special touches around every corner. WDW's Magic Kingdom is the most visited theme park in the world, bringing in more than 18.5 million guests in 2013. In all, WDW's four major parks (Magic Kingdom, Epcot, Disney's Animal Kingdom, and Disney's Hollywood Studios) drew more than 50 million people. Any experienced Disney traveler knows that WDW appeals greatly to both kids and adults — there's so much to see and do for all members of the family, no matter how old.
The Castle
You may already have hundreds of Cinderella Castle pics from your last WDW trip, but it's hard not to be mesmerized by the castle each time you go. This palatial edifice, the epicenter of Magic Kingdom, probably ranks as the second most quintessential Disney icon (after Mickey, of course). Lucky Disney guests are selected at various times throughout the year to stay overnight in the castle's 600-square-foot suite, which comes with its own 24-hour concierge. Wishes really can come true!
Weather
There is never a wrong time to visit WDW. Summers can be scorching-hot, but you simply adjust your schedule to hit the parks in the early morning and in the evening, cooling off in the pool midday when the parks are at full capacity. Winter in Orlando can bring 40-degree nights, and that's OK — it makes the holiday decorations in November and December even more felicitous.
Cost
A WDW vacation can certainly break the bank. A one-day adult ticket at Magic Kingdom costs $99 ($94 at Epcot, Disney's Animal Kingdom, and Disney's Hollywood Studios), and the deluxe resorts charge more than $300 per night. The best way to keep the spending in check would be to purchase multiday tickets (the price per day drops) and skip lunch. Fill up at a character buffet breakfast and eat an early dinner at your favorite onsite restaurant. That way you'll have more cash to spend on Mickey souvenirs.
Don't miss
No trip to WDW would be complete without watching the fireworks explode above Cinderella Castle. The 10-minute show features iconic Disney characters and villains, and the fireworks are timed perfectly to the winsome music. It's the ultimate way to end a long day at the parks.
What you'll see here that you won't see at Disneyland
The World Showcase at Epcot. You can visit Norway, Mexico, Italy, France, Japan, and more without a passport and learn about the cultures of all the 10 countries in the World Showcase (the American Adventure makes 11) from the international cast members. Sample foreign cuisine, partake in a wine tasting, and rock out to ethnic music. You'll soon forget you're in Florida.
Scariest ride
WDW competitor Universal Orlando Resort may attract the majority of thrill-seekers, but Disney's The Twilight Zone Tower of Terror can still terrify. The big drops and spooky setting will make even the seasoned thrill-ride fanatic scream out loud. In fact, the howls and shrieks from riders can be heard throughout the park. You have been warned!
Hotel
Plop down in one of the oversize couches in Disney's Grand Floridian Resort & Spa lobby and feel your body relax as the tuxedoed pianist plays beloved Disney tunes. The hotel, WDW's crown jewel, evokes Victorian charm and elegance. If you can't afford to stay at the swanky resort, don't despair — you can still enjoy many of the hotel's amenities. The monorail also shuttles guests to Magic Kingdom in less than five minutes, and the nighttime fireworks can be enjoyed from the sprawling property. Even more amazing: The hotel's gleaming white façade never shows signs of wear and tear, or even a paint chip.
Food
WDW has quickly become a go-to spot for epicureans. You can dine like royalty at Victoria & Albert's, the extravagant restaurant in the Grand Floridian where you will be served innovative haute cuisine. Famous chefs such as Todd English, Cat Cora, and Jerome Bocuse have all made the pilgrimage to WDW, and the annual Epcot International Food & Wine Festival draws millions of visitors.
DISNEYLAND
There's a special charm to Disneyland that is distinct from WDW. Walt Disney's imprint can be detected in every aspect of the park; it's easy to imagine Walt personally welcoming you into his world as you walk down Main Street, as he did with guests when Disneyland opened on July 17, 1955.
WDW's size and breadth draws more visitors than Disneyland, but the 16.2 million people who spend their time at Disneyland each year know that the original park, and the newer Disney California Adventure addition, are more beguiling and intimate than the younger sibling theme park over in Florida.
The Castle
Sleeping Beauty Castle may be smaller and less imposing than Cinderella Castle, but it is no less dazzling or hypnotic. Disney fans continue to snap photo after photo of themselves in front of the castle, and its splendor conjures up old repressed memories of wishing to be a future princess or prince.
Weather
As in Orlando, the weather in Southern California tends to be warm and sunny. Anaheim has experienced cold winters, though, so be prepared to spend money on Disneyland sweatshirts and hats if the mercury drops. The majority of Disneyland's restaurants and queuing areas are outside with little protection from the sun, cold, and rain, so come ready for all weather conditions.
Cost
If you're not a California annual pass holder, be prepared to shell out big bucks. Theme park tickets are a little less expensive if a multiday pass is purchased; a one-day pass for an adult (anyone above the age of 10) costs $96 (a park hopper option will tack on another $39 per ticket). Unfortunately, there's not much one can do to minimize expenses. It is Disney, after all, and all those souvenirs, drinks, snacks, and Mickey-shaped goodies add up quickly.
Don't miss
The Mickey-shaped beignets (fried doughnuts) at the Mint Julep Bar. Ask for a mix of the plain and pumpkin-flavored beignets, and don't forget to grab napkins to wipe that powdered sugar from your lips. Wash down the freshly made fritters with a nonalcoholic mint julep. Repeat every day.
What you'll see here that you won't see at Walt Disney World
1. Big Thunder Ranch petting zoo: Few parkgoers are aware that donkeys, horses, sheep, and goats are patiently waiting to be petted, touched, and photographed. Located right next to the Big Thunder Ranch Barbecue restaurant, the small but inviting petting zoo is a welcome retreat from the long lines and crowds. And who doesn't love to commune with farm animals?
2. The Indiana Jones Adventure: The elaborate plot, brilliant visuals, and high-tech special effects put you in the middle of an Indiana Jones movie. The 90-minute waits are a testament to the ride's star power.
Scariest ride
California Screamin' — by far the scariest ride at any of the Disney theme parks — will launch you from 0 to 55 mph moments after you buckle your seat belt. The two-minute-long roller coaster may feel like an eternity for some riders: You'll be flipped upside down and sent barreling down a 107-foot drop. Eating before embarking on California Screamin' is not recommended.
Hotel
Unlike Walt Disney World, there are only three Disney-owned hotels on Disneyland property. Of the three, there are several reasons to splurge on Disney's Grand Californian Hotel & Spa. First, the hotel sits in the middle of California Adventure and Downtown Disney, minimizing your walking time to the parks. Second, Grand Californian's pool complex deserves its own recognition. Gorgeously landscaped rocks and conifers circumscribe the Mickey-shaped pool; kids won't want to miss the 100-foot-long twisting slide in the kiddie pool. Above all, Grand Californian guests have their own private entrance to California Adventure, eliminating lines and giving guests a head start on reaching popular Cars Land before the masses do.
Food
Disneyland reflects California's health-conscious mindset: Sour pickles, chunks of fresh watermelon and pineapple and hummus are available at nearly every food cart. Vegetarians have more options than in Walt Disney World, such as veggie tacos, veggie chili, and veggie hot dogs (portobello mushrooms and peppers melted with cheese). For the ultimate extravagance in Disneyland dining, book a table at the upscale Napa Rose restaurant in the Grand Californian. The menu, albeit pricey, changes with the season and features award-winning California wines. Napa Rose has been consistently ranked as one of the best restaurants in Orange County.
More from Yahoo! Travel
They Fell Overboard and Lived—The Craziest Cruise Survival Tales