Southwest Airlines plane loses pressure midflight: It was 'a scary situation,' says passenger
A Southwest Airlines aircraft is undergoing a maintenance review after the plane depressurized on a flight from Denver to Dallas on Saturday night.
The cabin of Southwest Airlines Flight 861 reportedly began to lose pressure at around 9 p.m., about half-hour before landing at its intended destination of Dallas Love Field, KTVT reported.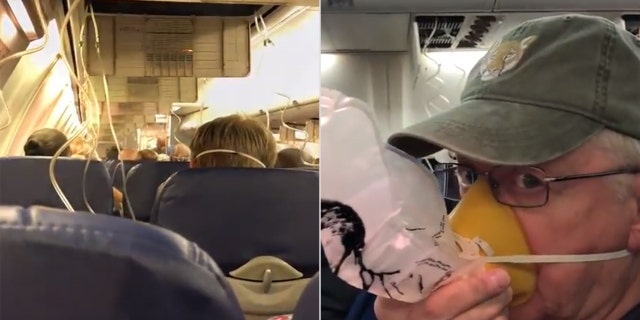 HERO SOUTHWEST PILOTS REVEAL THEY 'PUSHED FEAR' AWAY WHEN LANDING PLANE
Southwest confirmed in an emailed statement that the plane made an "uneventful" landing, and reported no serious injuries aside from some customers complaining of ear pain — although passengers aboard the flight told KTVT it felt anything but "uneventful" in the moment.
"When you're in the air 20,000 feet above the ground and don't know what's going on, it's not uneventful," said passenger Glen Eichelberger, who was flying with his friend Josh Trimberger.
"I had no idea what was going on or what the outcome was going to be," he added. "I reached over and grabbed Josh by the arm because I didn't know if we were going to make it or not. There was no communication what so ever from the flight attendants or from the cockpit as far whether we were in mortal danger."
Footage taken by Trimberger shows passengers utilizing oxygen masks, though he said in the video that flight attendants allowed them to remove the masks 10 or 15 minutes before landing.
It "definitely was a scary situation," he says into the camera.
PICS SHOW DAMAGE TO SOUTHWEST PLANE INVOLVED IN FATAL ACCIDENT
The plane landed at Dallas Love Field at 9:40 p.m. local time, according to Flight Aware. Southwest confirmed that four of the 120 passengers were treated by paramedics to "assess ear pain."
"All of the Customers were ending their journey with us in Dallas, as was the aircraft, which will underwent a maintenance review," the airline stated.
Saturday's incident is the latest in a string of emergency landings for Southwest, following last week's unscheduled landing at Dallas-Fort Worth International Airport over an issue with cockpit instruments showing a problem with the plane's flab.
More notably, Flight 1380 was forced to make an emergency landing in Philadelphia on April 17 after pieces of its engine blew apart and shattered a window midflight, partially blowing a woman out of the aircraft. The passenger was later pronounced dead at a Pennsylvania hospital.
FOLLOW US ON FACEBOOK FOR MORE FOX LIFESTYLE NEWS
A Southwest aircraft also made an emergency landing at Los Angeles International Airport on Monday due to reports of smoke in the cockpit, Fox 5 reports. No one was injured, and that plane, too, is scheduled for a maintenance review.