Southwest Airlines passengers weren't wearing lifesaving oxygen masks properly during emergency
A viral photo by passenger Marty Martinez from Tuesday's harrowing Southwest Airlines flight showed several travelers strapping the oxygen masks improperly on their face when the plane lost cabin pressure 32,500 feet in the air.
Fliers had the mask covering their mouth, but missed the crucial instruction of placing it over their nose as well — a mistake that may have put their lives at risk, as improper placement of the masks means the passengers weren't getting the maximum flow of oxygen available to them.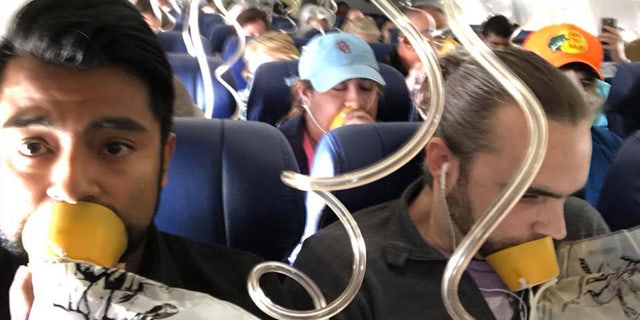 SOUTHWEST FLIGHT'S DEADLY ENGINE FAILURE SIMILAR TO 2016 INCIDENT
The oxygen masks are usually deployed when there's a significant drop in cabin pressure. When they are dropped from the plane's panel, passengers are instructed to pull it toward their faces, extend the cord as needed, place the mask over both the nose and mouth and, with your free hand, pull the elastic string over your head and tighten as needed.
Passengers, however, may not have been thinking clearly in such a terrifying situation. Martinez said he was desperately trying to contact his family via his laptop to inform them of the situation.
DELTA FLIGHT MAKES EMERGENCY LANDING: 'WE LEFT A TIRE IN NYC,' SAYS PASSENGER
The Dallas-bound Southwest Airlines flight 1380 made an emergency landing in Philadelphia after departing from New York City. One of the plane's engine fan blades broke off, causing shrapnel to shatter a window. Passenger Jennifer Riodan was killed when she was partially sucked out of the aircraft.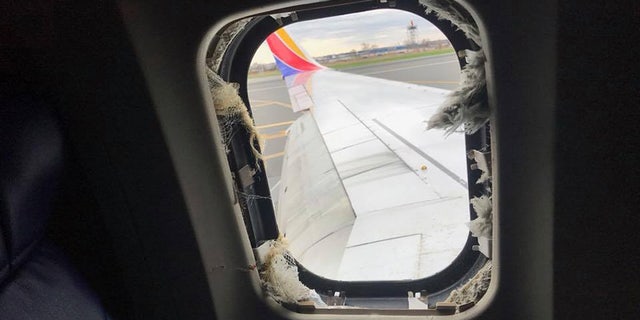 Officials are still investigating the deadly incident, but said there was evidence of metal fatigue where the fan blade separated.
"This fan blade was broken right at the hub, and our preliminary examination of this was there is evidence of metal fatigue where the blade separated," said NTSB chairman Robert Sumwalt.
Metal fatigue is a weakening of metal from repeated use and involves microscopic cracks. It can occur in fan blades, the aluminum skin on most planes, or other metal parts.
FOLLOW US ON FACEBOOK FOR MORE FOX LIFESTYLE NEWS
The Associated Press contributed to this report.