Skip the Boring Beach Vacation for One of These Adventure-Packed Trips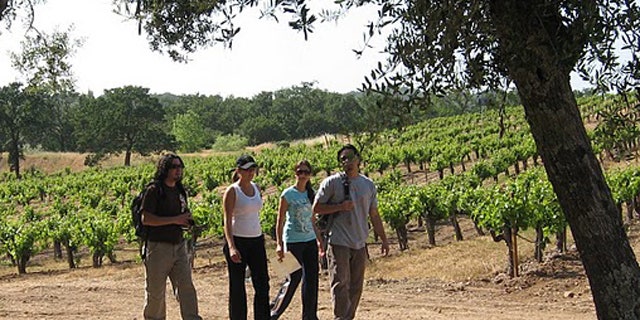 Lying on a beach with an ice-cold cocktail may be your idea of a great getaway, but for the adventurous traveler, that can get old really fast. Here are some fresh, inclusive getaways all over the globe that combine just the right amount of activity and down time, for travelers looking to break out of their vacation norms.
Vacation: Wine Country Trekking
Travelers walk, run and hike through different locations in California's wine country, and sample the famous wines along the way.
Location
The retreats are primarily located in the San Francisco Bay Area, while some other treks are in Wine Country itself. The 'Signature Track' is a ten-day vacation where travelers start out in San Francisco and walk their way up to Sonoma Wine Country. The tour itself is completely self-guided, according to Principle Sheila Taylor, who said the company sets up the vacation for travelers according to their desired trip dates, and arranges their hotels and transports their luggage from location to location. Travelers can trek between six and 10 miles each day, depending on their trip, and
Prices
Taylor said the prices range from $1,100 per person (double occupancy) to $2,850 for the 10-day retreat. All meals, excluding dinners, are included, as are the wine tastings along the way. Hotels stays are included as well, as are luggage transports. Travel to and from the airport; however, is not included in the fee.
On and Off-Seasons
The high season is from March through October, Taylor said, and the low season is from November to February.
Typical Traveler
The most popular trip is the Sonoma Valley Runner's Trek, Taylor said, and the typical attendees for Wine Country Treks are active people, who are passionate about food and wine. The hotels selected along the way are known for their delicious cooking, she said.
Why Book?
Taylor said the experience is one- of-a-kind, and gives travelers a completely new outlook on wine country.
"You just don't get the same experience when you drive, as you do when you walk it," she said. "It's not as intense."
Vacation: Pura Vida Adventures
This trip offers retreats for men and women all centered around surfing and yoga.
Location
All retreats, both yoga and surfing, are located in the Costa Rican towns of Mal Pais/Santa Teresa. The hotel travelers stay in during the trip is called the Hotel Tropico Latino. Travelers can choose either surfing or yoga retreats, where they participate in about 4 hours of each sport daily.
Prices
The retreats are six nights and seven days, and cost $2,100 per person, according to Founder Tierza Davis-Eichner. The fee includes all accommodations at the hotel, daily surf and yoga instruction, and all the equipment needed to participate. Also included are three meals a day, bottled water, a massage, and a rash guard shirt for surfing.
On and Off-Seasons
Retreats are only offered during set weeks throughout the year, and the company is closed in September and October due to heavy rain in Costa Rica. Winter months are often popular for Pura Vida, because of the cold weather in the U.S., Davis-Eichner said.
Typical Traveler
The most popular traveler Pura Vida Adventures tends to attract is businesswomen in their 30s, 40s and 50s, Davis-Eichner said. Many hail from New York, San Francisco and Los Angeles, and are looking to break out of the corporate grind.
"They work 60 to 80 hours a week, so they can't just go on a vacation and not do anything," she said.
Why Book?
Davis-Eichner started her business after being laid off from her corporate job in 2001. The excitement and active lifestyle in Costa Rica attracted her to the country, and she hasn't looked back.
"I just fell in love with surfing, and thought 'I am never going back to corporate America,' " she said.
Vacation: Fitpacking
This trip is for those looking to jumpstart their weight-loss program by backpacking and camping across different locations all over the U.S.
Location
Fitpacking adventures are offered all over the country from Crater Lake National Park in Oregon to Redwood National Park in California. The most popular trip is backpacking through Shenandoah National Park in Virginia, according to Bree Gotsdiner, director of Media Relations for Fitpacking. Another popular destination is Mount Rainer National Park in Washington, and all vacations are rated on their level of difficulty for attendees. Travelers build muscle, stamina and endurance through the hiking process, and loose pounds and inches on their trips, Gotsdiner said.
Prices
All trips are between $1,000 and $2,000 per person, Gotsdiner said, and range between one and two weeks in length. A typical retreat has about 12 attendees, and two or three guides. The trip fee includes all food and lodging for the night before and after the trip. Many travelers bring their own tents and gear, but Gotsdiner said it is available for rent. All food is healthy, and health tips are also given along the way from guides.
"We really try to make it so that when they get home, they can continue the program, and not go on a crazy crash diet," she said. "We build in that educational component too, but if they just want to get away that is totally fine."
On and Off-Seasons
The majority of the trips take place in the warmer months of the year, in Spring and Summer, Gotsdiner said.
Typical Traveler
Just like it's destinations, Fitpacking sees travelers from all over the map. Some are corporate workers, others are overweight people looking to jumpstart their own diet, or supplement their diet program. Most, however, are looking to shed a few pounds and try a new and adventurous vacation, Gotsdiner said.
Why Book?
Due to the intense nature of the trip, Gotsdiner said many travelers form relationships with one another during the trek, and remain friends after they reach their destination.
"After a trip ends, they 'graduate,'" she said. "Some graduates come back together for another trip, and a lot of people have made lifelong friends."
Vacation: Felix Unite River Adventures CC
Felix Unite offers river trips and safaris all over South Africa. The Orange River Canoe Trip on the Great Orange River involves rowing along the river in the Drakensberg Mountains and camping out under the stars at night.
Location
The Orange River trip takes place between the border of South Africa and Lesotho. There are four and six-day trips, and each day travelers paddle between seven and nine miles daily down the river, stopping along the way for lunch on the banks of the river and continuing on after that. Guides prepare all meals daily, and there are historic hikes and walks travelers can take during lunch or at their campsites, according to Caroline Taljaard, sales and marketing manager's assistant for Felix Unite.
Price
Four-day trips are $452 per person and six-day trips are $520, Taljaard said. The costs include all meals, hot beverages, camping fees and all safety and paddling gear. Travelers need to bring their own bottled water, however. At the base camp, where the trip begins, there is a restaurant, shop, Internet café, swimming pool, Cabana and bar.
On and Off-Seasons
The trips are offered all throughout the year, but the water level on the Orange River does fluctuate, Taljaard said. The river is at its highest during mid-winter from May through August, and the weather is often colder in the mornings and evenings. The Easter holidays, September and October school holidays and December through New Year's are also busy seasons. Taljaard said the trips need a minimum of six people to take off.
Typical Traveler
The trip, which has been running for 26 years, draws many locals from South Africa and Nambia. About 20% of travelers are international tourists, Taljaard said, and some corporate team-building events are also offered.
Why Book?
Student trips are offered at discounted prices, Taljaard said.
"We run over 30 different school tours every year on the Orange River," she said. "We also offer Xtreme Varsity trips, which are specifically targeted at varsity students at student prices."