Silver Dollar City to debut world record-breaking roller coaster in 2018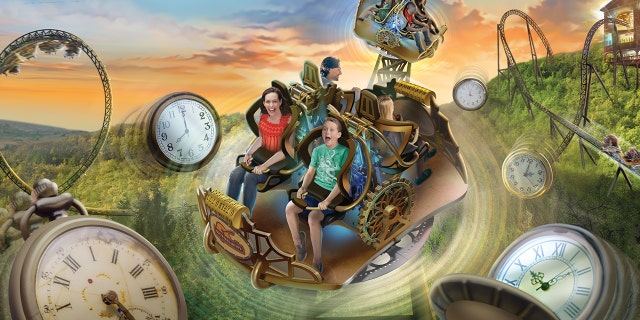 Hold onto your cookies, because the Silver Dollar City amusement park in Branson, Mo., is scheduled to debut the tallest, steepest and fastest spinning roller coaster in the world in 2018.
Spinning roller coasters, staples of county fairs and carnivals since the debut of the Wild Mouse, are not traditionally headliner attractions. However, Silver Dollar City's Time Traveler spinning coaster is definitely no Wild Mouse. In fact, Time Traveler will set three world records, and shatter the traditional Wild Mouse-mold of a compact track with tight cornering curves.
WHEN KIDS ARE AWAY, GROWN-UPS WILL PLAY: ADVENTURES BY DISNEY FOR ADULTS
"This coaster's state-of-the-art controlled spin feature provides riders a unique thrill experience while still appealing to families," said Brad Thomas, president of Silver Dollar City Attractions. So yes, like a Wild Mouse ride, Time Traveler will have 360-degree spinning vehicles — but that's where the comparisons end.
Time Traveler will utilize Branson's Ozark terrain to immediately plummet riders out of the station over 100 feet straight down a mountainside at 50 miles per hour. During the course of the nearly 2-minute ride, passengers will flip upside-down three times (the most ever for a spinning roller coaster) during a 95-foot-tall vertical loop, a dive loop and a Zero-G roll. Midway through the ride, trains pass through not one, but two linear synchronous motor launches to maintain speed.
HOW TO SURVIVE THE ULTIMATE NATIONAL PARK ROAD TRIP
Time Traveler reportedly cost Silver Dollar City $26 million to design and build, and the park has partnered with German manufacturer MACK Rides to create the ride. Previous MACK Rides coasters include the triple launch Star Trek: Operation Enterprise (2017) at Movie Park Germany and Cobra's Curse (2016) in Busch Gardens Tampa.
Silver Dollar City, an 1880s-themed amusement park, is also home to the award-winning Outlaw Run roller coaster — listed in the Guinness Book of World Records as the steepest wooden roller coaster. When Outlaw Run opened in 2013, it earned the distinction of being the first wooden coaster to go upside down.
FOLLOW US ON FACEBOOK FOR MORE FOX LIFESTYLE NEWS
Time Traveler will utilize a clever Steampunk, retro-futuristic, Jules Verne-esque theme to blend the modern spinning coaster with the late 19th Century-themed park.