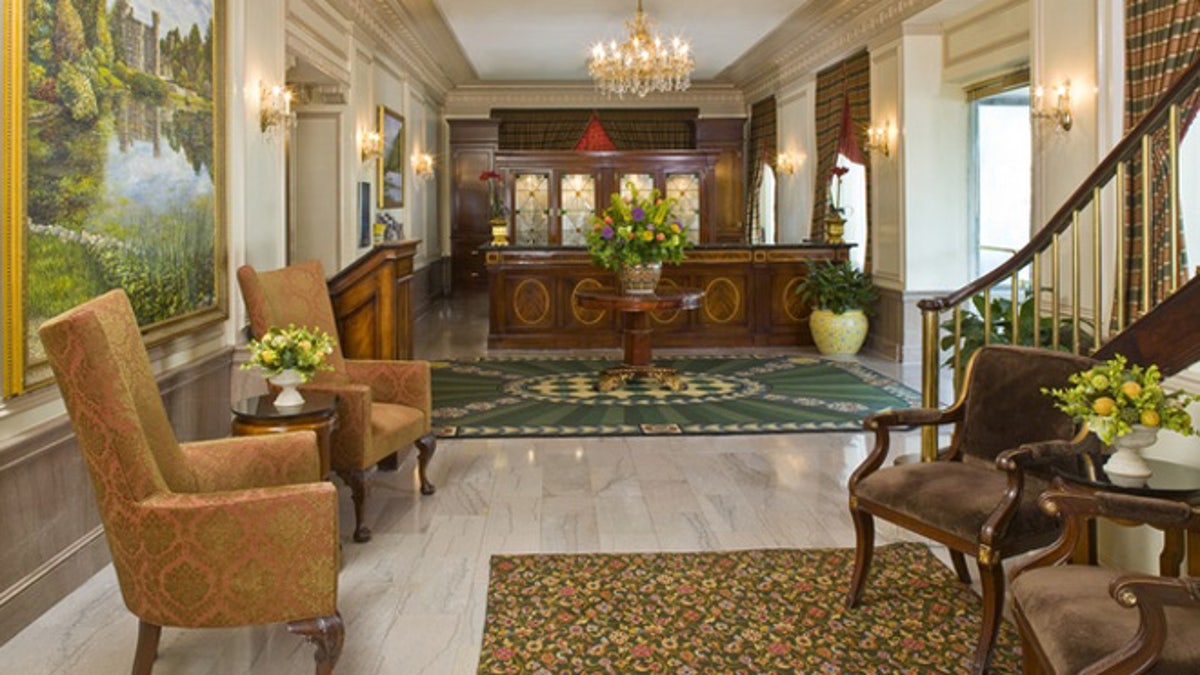 Our forefathers worked hard to make our nation's capital great. Unfortunately, not as much effort went into making it affordable. Just in time for our president's inauguration, we found five charming hotels that are refreshingly democratic in price.
Phoenix Park
The Irish-American owner has sprinkled Irish charms throughout this nearly 90-year-old property (with an adjacent pub) in Capitol Hill.
Capitol Hill, where this gem is located, has a lock on the landmarks, letting visitors easily connect the dots between the Capitol, Union Station, and the National Mall's monuments and Smithsonian museums. The area hums with activity during the day, when government workers are busy bees and tourists madly try to squeeze it all in before closing time. However, the area quiets down in the evening, once folks have loosened their ties and the laces on their walking shoes. The hotel's owner, a proud Irish-American, brings a touch of his ancestral land to these shores, creating a country-estate aesthetic in an urban space. Irish charms are sprinkled throughout the nearly 90-year-old property: The hotel's moniker honors the eponymous park in Dublin; toiletries are made by Galánta, a Celtic company; and the in-room Irish breakfast tea comes courtesy of Bewley's, the country's leading coffee and tea company. The artwork further enhances this fantasy trip to the Emerald Isle, with paintings of castles and foxhunts, and a glass case that displays gleaming Waterford crystal. The 149 rooms are as jubilant as a cloudless day in County Clare, due in part to the color wheel of gold, burgundy, and green. The attached restaurant and pub, the Dubliner, brings in crowds with its Irish brews, traditional plates (fish and chips, corned beef and cabbage), and live Irish music every night. Later, work it off in the 24-hour fitness center. 520 N. Capitol St., NW, phoenixparkhotel.com, from $149 per night.
Akwaaba
This inviting 1890 brownstone has eight chic rooms with a subtle literary theme.
Nestled in the 16th Street Historic District, Akwaaba is just steps from the cafes and boutiques of the trendy U Street area and a 10-minute walk to Dupont Circle. Run by a husband-and-wife team, the hotel's name translates to "welcome" in a language spoken in Ghana, and so you are. The 1890 brownstone creates a warm and inviting space with fireplaces, a piano, and parlor-esque furnishings appropriate for a literary salon or a Merchant Ivory film. A literary theme runs through the eight chic rooms and an apartment suite that was once a retreat for writers completing works in progress. Each accommodation centers on an author or genre, whose spirit and style subtly inform the interior designs. To wit: the African mud-cloth pillow covers in the Toni Morrison chamber; the vintage suitcases and framed print of Cuban cigars in the Langston Hughes room (conveniently outfitted with a balcony). During the evening happy hour, sip and snack on Akwaaba-labeled red and white wines (the owners work with vineyards in Napa), cheese, nuts, and olives. A gift shop in the foyer sells souvenirs such as Akwaaba microfiber robes, bottle openers made in South Africa, and textile notepad boxes from Ghana. The only drawback? No elevator, which means a StairMaster-like climb to the fourth floor. Breakfast is included. 1708 16th St. N.W., akwaaba.com, from $150 per night.
Woodley Park Guest House
Guests will feel like they're staying at the home of a well-to-do local with impeccable taste for art and antiques.
Located in an upscale residential neighborhood near the zoo, you'll feel like you're a guest at the home of a well-to-do Washingtonian at the Woodley Park Guest House. The hotel feels very quiet and subdued--due, no doubt, to the absence of televisions and radios, and the fact that no children under 12 or pets are allowed. A former boarding house, the property has been tastefully upgraded with beautiful lighting, ceiling fans, central A/C, and granite countertops in bathrooms, yet retains its original appeal thanks to details such as bay windows and dormers. Though rooms are fairly small (especially the single-occupancy ones with shared bath), you'll feel cozy rather than cramped. There are six parking spots available to guests for $20 per night, which is a steal compared to other hotels around the city. The free breakfast is a cut above continental and is served in an elegant dining room. The afternoon brings complimentary cookies and brownies. If you ask, they'll do laundry for too, though it'll cost you $10. 2647 Woodley Rd. N.W., dcinns.com, from $125 per night
Hotel Helix
A Kimpton boutique hotel with surprisingly large rooms--some with kid-friendly bunk beds--and a welcoming attitude to pets.
This boutique hotel's theme is "15 Minutes of Fame"--meaning guests are invited to think of themselves as celebrities. When you enter the lobby, red drapes open as if you're stepping onto a stage, the check-in desks look like podiums, and the walls are lined with Pop Art-style photos of actual celebrities. The lobby Helix Lounge is popular with guests and locals alike, thanks to its fun drinks and, during happy hour, half-price burgers; in winter, its spacious outdoor terrace is kept cozy with heat lamps. The rooms are surprisingly large--from 400 to 800 square feet--and even the smallest options have separate dressing areas. And in spite of the fact that the modern décor is heavy on bright colors and hard, sleek surfaces, the property still manages to feel homey. A bonus for families: Some rooms have bunk beds fitted into an alcove with a second flat-screen TV, so the kids can watch cartoons while parents tune out. Even Fido is welcome and, to prove it, the staff will provide treats, beds, bowls, and bottled water. Outside your room you'll find Logan Circle, home to eclectic shops and restaurants-and a Whole Foods if you're looking for the familiar. Be aware that rates fluctuate wildly depending on the season. You might find rooms for $99 or as high as $500. Weekends tend to be cheaper, as do low seasons like late summer and Dec-Jan.1430 Rhode Island Ave. N.W., hotelhelix.com, from $99 per night
Adams Inn
A cozy trio of early 20th-century houses with a communal vibe, a large garden, and a pet-friendly policy.
You'll find the Adams Inn in Adam's Morgan, a neighborhood where restaurants wave flags from five continents and the bars crank up the music and host live bands. The trio of early 20th-century brick-town houses hasn't strayed far from its original roots as a group residence. More than half of the 26 rooms come with private baths; the remainder must share (ask the front desk for complimentary necessities like shampoo, conditioner, and shaving cream before you strip down). The pragmatic, only-what-you-need furnishings are dated in a good way. The color palette is soothing, and there's a refreshing absence of noise boxes (no TVs or phones). Two kitchens and numerous dining nooks mean you can save money by preparing meals or reheating leftovers. There is also a laundry facility in the basement. 1746 Lanier Pl., adamsinn.com, from $99 per night (shared bath), $129 (private bath).