Sculptor's 'demonic' baby Jesus statue restoration sparks Internet ridicule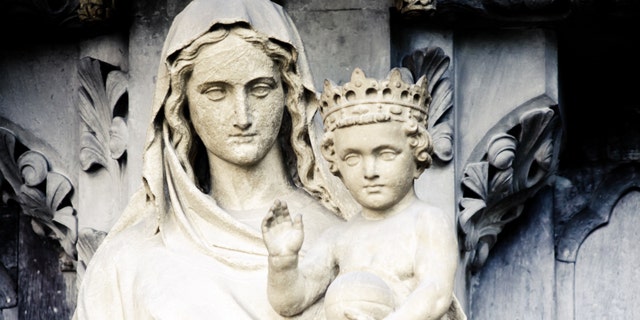 An amateur Canadian sculptor's attempt to restore the head of a baby Jesus statue has sparked widespread ridicule online.
For almost 10 years, The Guardian reported, vandals would attack a white stone statue of Mary and child outside Ste Anne des Pins church in Ontario, Canada, often leaving the baby Jesus' head on the ground. About a year ago, an unknown suspect reportedly knocked the head off for the last time and took off with it.
When the church's priest, Gérard Lajeunesse, inquired about replacing the head via a professional sculptor, he was told it would cost about $10,000. That's when Heather Wise, a local artist, literally knocked on his door.
"I was so sad," she told Sudbury.com, describing her feelings when she saw the headless statue. "I thought, 'Who would do that?' It's just not a positive feeling to see that. I said, 'I'm an artist, I would like to fix it.'
"I knocked on the door, talked to the priest and we've been getting this together, because we had to find out a way of doing it."
But there was a slight problem. Though Wise had learned how to sculpt in college, she had never worked with stone. So she spent hours crafting the head with bright orange terracotta clay.
When the replacement head was attached a few weeks ago, the color did not go unnoticed.
"No wonder Mary has her eyes closed," a commenter wrote on the CBC website.
As the story circulated online, some said Jesus looked like Maggie Simpson. Others compared Wise's effort to a Spanish octogenarian's effort to restore Ecce Homo, a peeling fresco of Jesus, that has been called "the worst restoration in history."
"It really is shocking to the eyes because of the big contrast in color," Lajeunesse told the CBC, adding, "I wasn't trained for this in seminary."
He made clear that the new head is temporary, which is a good thing because it's already eroding in the rain. And he said Wise plans to use her experience with the clay to make a head of stone.
"It's a first try," he said. "It's a first go. And hopefully what is done at the end will please everyone. She did this out of the goodness of her heart."
Though Ecce Homo was initially ridiculed as a massive artistic failure, the church mural has since become a big tourist draw for the small town in Spain.