Ryanair flight battles strong winds during 'rocky' takeoff caught on camera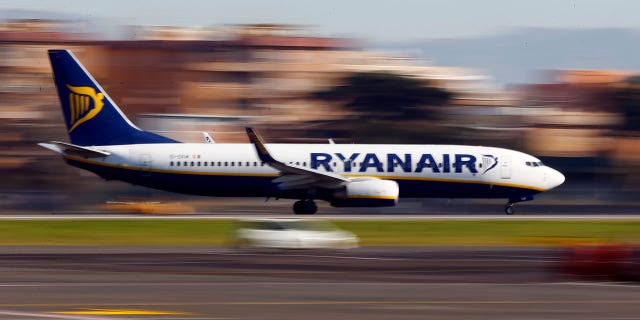 NEWYou can now listen to Fox News articles!
Talk about getting off to a shaky start.
Startling footage of a recent Ryanair flight taking off in heavy winds appears to show the aircraft being pushed to and fro just seconds before it takes to the skies.
The flight, which left from England's Birmingham Airport for Alicante, Spain on Sept. 19, was reportedly trying to take off during Storm Ali, which battered the U.K. and Northern Ireland with high winds and rain, The Independent reported.
POLICE CALLED TO AIRPORT AFTER PASSENGERS COMPLAIN OF MIDFLIGHT THEFT
In the footage, which was shared to YouTube earlier this month, the Ryanair flight can be seen speeding down the runway, as the nose of the aircraft veers to the right. The plane continues with its wobbly, askew takeoff after its wheels leave the ground.
A spokesman for the airline confirmed to Fox News that the flight continued as planned, with no incident.
"This flight from Birmingham to Alicante departed as normal (in windy conditions) and the flight continued without incident," the airline stated.
A representative for the British Airline Pilots' Association also told The Daily Mail that, while it might look scary, nothing about the "rocky" takeoff was "intrinsically dangerous."
EASYJET PASSENGER REMOVED FOR 'PUTTING WHOLE PLANE IN DANGER'
This Ryanair aircraft wasn't the only flight that was forced to battle with the elements during Storm Ali, either. In September, airports across Ireland warned customers that flights may be canceled due to severe weather, The Express reported. And in at least one case, another flight — also Ryanair — was forced to abort landing at Dublin airport, also on Sept. 19.
"There was much screaming and crying from passengers, but pilots guided us in safely on second attempt," a passenger told The Independent.
FOLLOW US ON FACEBOOK FOR MORE FOX LIFESTYLE NEWS
Another woman, who claimed to be on a separate flight to Dublin on that same day, claimed passengers were "terrified, screaming" and that "everyone [was] throwing up" during its two attempts at landing, before being diverted to Liverpool, Ireland's Independent reported.
Both planes that aborted initial landings eventually touched down safely.