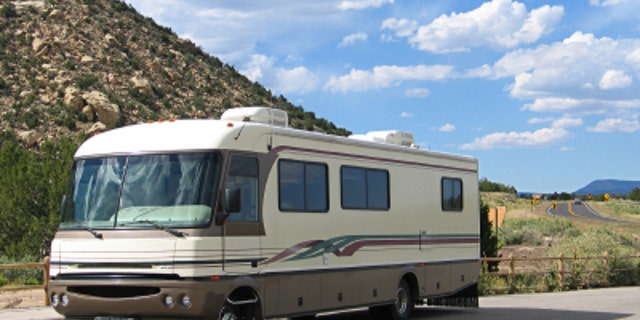 "Just use the pull-through in Number 12," the campground manager told Silvana Clark and her husband, who had just registered their recreational vehicle at the site.
The first-time RV renters drove to Number 12, where Clark recalls they were unable to "find a cord or a string or anything else to 'pull through.'" When the Clarks brought this issue to the manager's attention he politely explained that "you just need to pull your RV through the site instead of backing into the space," and that they could simply pull out of the space without reversing when it was time to go.
"Pretty basic, but we didn't have a clue," says Clark, who with her husband now live full time out of an RV as "sole ambassadors" for shoe charity www.soles4souls.org and have since RV'd through 33 states during the course of a year. The extended RV travel has made Clark all the more adamant about advising travelers to rent an RV before buying one.
Aside from learning if you can tolerate spending a lot of time in the vehicle, Clark suggests that potential RV users may be "disgusted at having to empty the black water," which is your RV's toilet water, not to be confused with the "gray water" from your RV's sink and shower that you'd also have to manually empty at a dump station - unless your campsite had sewer attachments that would eliminate the chore.
If you've been on the fence about recreational vehicles, this could be your year to get inspired: 2010 happens to be the 100th anniversary of the RV industry. Before you even think about roaming, however, there are a few more things you ought to know.
Plan your parking.
While an RV liberates you from hotel stays, you still need to reserve campsites. "It's a rare thing for a tent camper to be turned away from a campground," says Nerd's Eye View travel blogger Pam Mandel, though the national parks during high season might be the exception, she says. "But the RV camper? That's a different story. Your RV neighbors may have booked months in advance and they could be parked for a good long while. Save yourself time, fuel, and difficult turnarounds by calling ahead."
Not all campgrounds are accessible to RVs 24/7, either. On their maiden RV trip Joyce Baki says she and her husband "wound up in a commuter parking lot in Connecticut because the campground he was trying to get to closed its gates at dusk." The next day the Bakis joined up with Kampgrounds of America (KOA), which takes online reservations in 46 states. Some KOA locations have cabins and cottages available as well as the option of renting your RV once you're on site. Whether reserving through KOA or another campground, Baki says to ask what hookups are offered - grounds with full hookups have the aforementioned sewer attachments as well as hookups for your drinking water and electricity.
Pick a ride that's the right size.
Rather than renting an RV that sleeps the precise number of people in your party, "look for a unit that accommodates everyone," says SoloWomanRV blogger Janet Groene, author of Living Aboard Your RV, 3rd Edition. "People also have to get up, get dressed, use a bathroom, have a seat at the table, stow their gear and find a place to read or play board games," as well as eat on rainy days, she observes.
On the other hand, a first-time renter shouldn't take on more vehicle than he can handle, urges Walter C. Cannon, executive director of the Recreation Vehicle Safety & Education Foundation. "Try to stay as small as possible," Cannon says. "The smaller RV's are easier to drive, can get into more campgrounds, and will be somewhat less expensive to operate," adding that "the 'Class C' motor home - with a van front - will feel much more familiar for the first time operator than a large 'Class A' unit, as well as offer better fuel economy." Depending on the size of your RV, fuel mileage might be between 8-15 mpg, says Dan Wulfman, president of Tracks & Trails, which coordinates national park RV trips.
You don't need a special license to drive an RV, but Wulfman says to keep in mind "that you are considerably wider, higher, [and] larger than a car. You will need to take these factors into account and get accustomed to using the mirrors to improve your visibility," Wulfman says, and "although most modern motor homes have very predictable road manners, this is no Honda. It won't accelerate as quickly, maneuver as nimbly, or stop as short as the car you drive every day. You just have to think a few seconds further ahead and be aware that when you make a sharp turn, the rear wheels track further towards the inside of the turn than the front ones that are under your feet."
Pack like you've done this before.
Wulfman says to ask if your RV rental comes with a "convenience kit" that ought to include basic cookware, dishes, and linens. He also says to bring a plastic tablecloth with picnic table clips, laundry supplies and clothes pins, and an "Astroturf" doormat for outside your RV's door.
Before traveling North and South America for several years in a custom-built rig, Stephanie Hackney and her husband rented an RV whose refrigerator died while they were tooling through a remote area in 100 degree-plus heat. The experience taught them not to rent from an RV company that doesn't guarantee appliances. "Read your contract carefully, pose every possible 'disaster scenario' you can think of to the renting agency and get their responses in writing before renting the vehicle," Hackney says. Down the road, when the refrigerator in their permanent rig failed, the Hackney's were "prepared with a large Rubbermaid tub that could be filled with ice until a repair could be made."
Doreen Orion, author of the travel memoir Queen of the Road, recently took a year off with her husband for some RV travel and says to "be sure to line your kitchen cabinets with rubber mats, otherwise, all your dishes and glasses will be sliding all over the place." Also, she says "we found we needed a fire extinguisher when our electrical system caught on fire."
Bring walkie-talkies, Wulfman says, which "make it easier to communicate with your 'spotter' when backing into a campsite and are great for hiking, especially if some in your group are slower than others." He says you also might want to pick up an inverter that "converts [your] 12V cigarette lighter current into 110V juice" and will let you to power up your camera, laptop, and other rechargables.
Hackney packs headlamps - "we use them quite often," she says, along with book lights, a fully-stocked med kit, and a "ditch bag" with necessities should they have to abandon their RV.
One more thing: Know the height of your RV, Baki says. "On our first trip, we decided to go to Boston - during the 'Big Dig' - yes, we were very inexperienced. After sitting in traffic for over an hour, my husband decided to 'take the first exit' which led us to a bridge with a height restriction. We were six inches too high." Their Plan B? A KOA campground in Plymouth, Mass. "that provided a shuttle to a nearby train that went into Boston."