Russia wants this 'cool' new jet to dominate the sky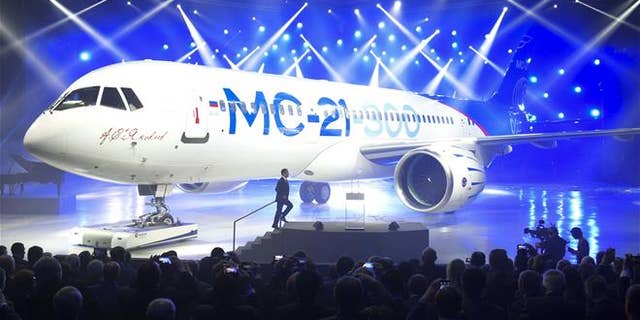 NEWYou can now listen to Fox News articles!
Who needs Western planes? Not Russia, apparently. The country has just unveiled the MC-21, the first Russian "medium-range passenger aircraft developed this century," reports RT. Revealed in what the Guardian calls a glitzy ceremony in Irkutsk, the twin-engine jet is meant to rival Airbus and Boeing aircraft.
The MC-21 by Irkut Corp. is still in the testing phase but should be delivered to carriers in 2018. It's made of composite materials, rather than metal, which "allows us to give it a special shape," says Irkut's vice president.
It's also lighter and stronger than its predecessors, and its operational costs are expected to be 15% cheaper, thanks in part to better fuel efficiency, per the AP.
"I am absolutely certain that the airliner will be the pride of Russian civil aviation, and that our citizens and foreign people will take pleasure in flights on MC-21," says Prime Minister Dmitry Medvedev.
More from Newser
He also called the MC-21—which cost about $3.5 billion to develop, per Bloomberg—just plain "cool." Irkut says it has orders for 175 planes from both domestic and foreign carriers, including 50 for Russia's Aeroflot.
The planes—which will come in two or three versions ranging from 130 to 211 seats and can house American- or Russian-built engines—will specifically rival Boeing's 757 and Airbus A320 planes, reports CNBC.
(Next up: a flying doughnut?)
This article originally appeared on Newser: Russia Wants This 'Cool' New Jet to Dominate the Sky