Royal Caribbean confirms plans to build another 'world's largest cruise ship'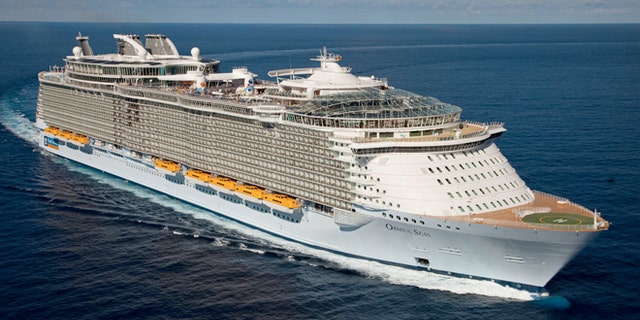 Royal Caribbean confirmed on Thursday that it is in negotiations to build a third "world's largest cruise ship." The ship will be a sister to its two "Oasis-class" cruise vessels already in service, both of which are roughly 30 percent larger than other cruise ships.
When Oasis of the Seas, the first of these "world's largest cruise ships," debuted in November, 2009, it wowed the cruise world with consummate technology. It was the first to incorporate a split-tier structural design where six decks of inward facing restaurants, shops and balcony staterooms open to an internal "Central Park" with live plants growing in the center of the ship.
Construction of the two vessels --Oasis of the Seas and Allure of the Seas --commenced before the economic recession hit. But when the Oasis of the Seas was completed in September 2009, Royal Caribbean still owed approximately $1.2 billion, and worldwide sources of credit were virtually non-existent. STX Finland's Turku shipyard that was building the ship had a 220,000-gross ton cruiser ready to deliver to a customer with no credit.
In a too-big-to-fail scenario, the Finnish government stepped in to secure the loans so Royal Caribbean could pay for the ship. The second ship, Allure of the Seas, was similarly financed a year later. Now a similar style of finance for the yet-to-be-named third ship is under negotiation.
Fortunately the ships have been a very good investment. While most new cruises ships command higher cruise fares for at least six months, the "newness" of Oasis and Allure has still not worn off three years later. While other lines are already selling Caribbean cruises on their newest vessels for under $500 per person, similar staterooms on Oasis ships still typically fetch twice the price.
After the first two Oasis ships were introduced into a very uncertain economy, Royal Caribbean continually refused to say it would ever build another Oasis-class ship. Its only perennial comment was "Never say never."
Assuming the financing works out, the new ship will be built in the same Finland shipyard where the other Oasis-class ships were built. Earlier this month there was speculation that a third ship was in the works after a Finnish newspaper ran a report saying the shipyard would be a part of the rumored deal, pending financial support from the Finnish government. Royal Caribbean at the time would not confirm the report, only saying, "It's a rumor, and we don't comment on rumors."
But the cruise line confirmed the negotiations during its regular conference call with Wall Street on October 24; so we might say we've established what is going to happen. It is now just a matter of price.