Rome's Trevi Fountain reopens after $2.2M makeover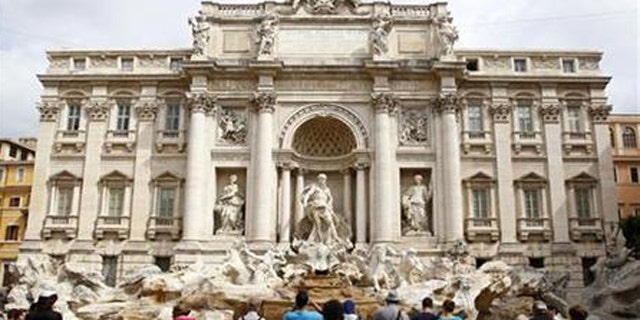 Rome's Trevi fountain is flowing once again after a $2.2 million makeover.
At a ceremony on Tuesday, the taps were turned back on after a 16-month clean-up to cheers from delighted tourists, AFP reports.
Crowds packed the small square in the Eternal City's historic center and couples hugged and kissed next to the ornate fountain where tradition has it they can ensure eternal love by drinking its waters.
The fountain, which was commissioned by Pope Clement XII in 1732, was immortalized in the scene from the Fellini film in which Anita Ekberg waded into its waters in a black evening dress.
Italian fashion house Fendi, were carried out the repairs to the nearly 300-year-old monument. It is visited by millions of tourists every year, but in 2012 bits of its elaborate cornice began falling off following a particularly harsh winter.
Emergency repairs cost some $350,000, and a survey of the monument found that more critical work was needed, prompting a cash-strapped city hall to appeal to large companies and donors for funding. Fendi answered the call.
"It's very emotional, especially for us Romans," house's designer Silvia Venturini Fendi said, after the company's chief executive Pietro Beccari announced that the fashion house would fund the restoration of four other fountains in the Italian capital in a "gesture of love" for Rome.
The basin was drained but the most determined visitors had still been slinging coins over their shoulders – a tradition that is said to ensure a return to Rome – in the hope of getting them into a small substitute pool.
On Tuesday, the base of the fountain's sea-god scene poured water, and a hail of coins plopped into the refilled basin.
The tradition of throwing coins into the fountain was made famous by Frank Sinatra's rendition of "Three Coins in the Fountain" in the 1954 romantic comedy film of the same name.