Radisson hotel group to offer TSA PreCheck as member rewards option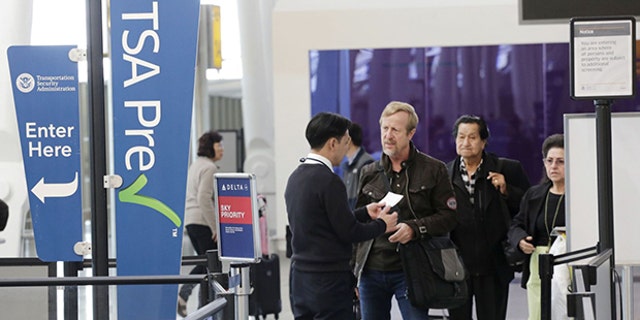 NEWYou can now listen to Fox News articles!
One of the world's largest hotel groups is set to become the first to offer the Transportation Security Administration's TSA PreCheck as a redemption option for its rewards program.
Beginning July 1, members Carlson Rezidor Hotel Group's Club Carlson (which owns properties like Radisson Hotels and Park Plaza Hotels & Resorts) will be eligible to redeem 65,000 Gold Points for an authorization code toward the $85 TSA PreCheck application fee good for five years.
Club Carlson members earn 20 Gold Points on every U.S. dollar spent on eligible stays as well as meals and beverages charged to their rooms.
A godsend for frequent travelers, TSA PreCheck provides expedited security screenings for airport travelers, allowing them to pass through security checkpoints without having to remove their shoes, belt or light jackets.
More from TravelPulse
Sail Alaska in All-Inclusive Luxury
Annual Contest for Veterans Returns
Pilot Breaks Language Barriers With Awesome Translation Tech
Hotel Deals Abound on Nassau Paradise Island
Are You Ready to Kiss the Blarney Stone and Visit Blarney Castle?
TSA PreCheck users can also leave select items in their carry-on bag, including laptop computers and liquids.
"It is exciting to be the first hotel rewards program to offer TSA PreCheck as a redemption option," said Carlson Rezidor Hotel Group's Vice President of Global Integrated Marketing Communications Alissa Montbriand in a statement. "This enhancement is also timely as summer travel ramps up and security lines at airports increase."
The TSA's Chief Marketing Officer John Sammon also praised the offering.
"Partnerships of this nature allow more travelers to experience the benefits of TSA Precheck while reducing checkpoint wait times," said Sammon in a statement.
As Montbriand pointed out, the timing of the new redemption option couldn't be better given the recent fuss over lengthy security checkpoint lines. With summer travel season in full swing and busy travel holidays like the Fourth of July and Labor Day still to come, travelers will have added incentive to apply for TSA PreCheck.