Qatar Airways accused of being 'sexist and degrading' after CEO was caught bashing US carriers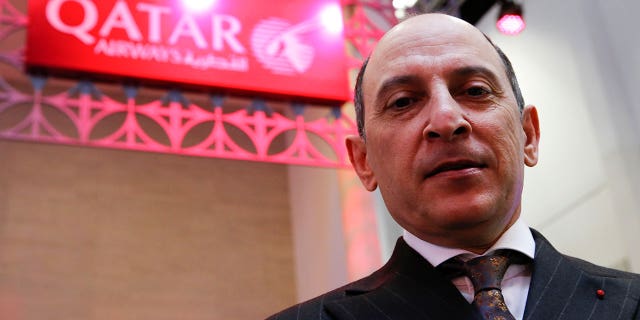 Qatar Airways has reached "a new low," according to critics within the airline industry.
The Association of Flight Attendants and the Air Line Pilots Association have come forward to condemn recent remarks made by Qatar Airways CEO Akbar Al Baker, who was caught on film calling American carriers "crap" and bashing the flight attendants who work them.
Al Baker made the remarks last week in Dublin, while speaking at an event commemorating his airline's new flight route between Ireland's capital and Doha, Qatar.
MIDDLE EASTERN AIRLINE TROLLS TRUMP WITH AIRFARE PROMOTION
After touting the "award-winning service from our international cabin crew," Al Baker took a moment to brag about his crew's average age — and he knocked U.S. airlines while he was at it.
"By the way, the average age of my cabin crew is only 26 years. So there is no need for you to travel on these crap American carriers," said Al Baker, eliciting laughter from the audience.
"You know you're always being served by grandmothers on American airlines," he added, as seen in footage of the speech that was later uploaded to YouTube.
Now, in the wake of Al Baker's comments, two unions within the airline industry are slamming the Qatar Airways CEO.
The Association of Flight Attendants (AFA) was the first to respond to Al Baker's remarks, posting a lengthy response on Sunday.
"Straight from Akbar Al Baker lips, he confirms what AFA has said all along: Qatar Airways thrives on misogyny and discrimination," wrote AFA President Sara Nelson in a statement. "Qatar is not only seeking to choke out U.S. Aviation, but also the 300,000 good jobs built through opportunity created on the principle of equality. There is no room for a separation of humanity in air travel or in an emergency. Flight Attendants are onboard to save lives and every life counts. If you prop up Qatar Airways you are supporting sexism, racism, and ageism."
The Air Line Pilots Association (ALPA) later responded to Al Baker's "chauvinistic remarks" on Tuesday.
"The head of Qatar Airways sunk to a new low recently when he disparaged hard-working U.S. crewmembers and airlines that represent $1.5 trillion in economic activity," said ALPA President Capt. Tim Canoll in a statement posted to ALPA's website. "Akbar Al Baker's sexist and degrading remarks are an affront to our core values as a country, and he owes U.S. airline workers an apology."
FOLLOW US ON FACEBOOK FOR MORE FOX LIFESTYLE NEWS
However, Canoll hypothesized that "there will likely be no economic ramifications for his insults," since Qatar Airways is subsidized by Qatar's government and doesn't technically compete in the open market." He then called on President Trump and Secretary of State Rex Tillerson to support the ALPA-backed Partnership for Open and Fair Skies, which aims to prevent state-owned airlines like Qatar's from dominating air travel.
A representative for Qatar Airways was not immediately available for comment.