President Trump reportedly wants a 'more American'-looking Air Force One
President Trump is reportedly hoping to make the high skies great again with a new and improved patriotic paint job for Air Force One that "looks more American," in addition to requesting bigger, more comfortable beds on board.
Axios reported this week that POTUS has a few specific wishes for the pair of Boeing 747s that are currently in the works to replace the presidential jets in use now. Citing an unnamed source, the outlet recalls that Trump personally negotiated the $4 billion dollar deal in the Oval Office with Boeing CEO Dennis Muilenburg in February for the new planes.
OFFICIALS SAY VAPING CO-PILOT CAUSED AIR CHINA FLIGHT TO DROP 21,000 FEET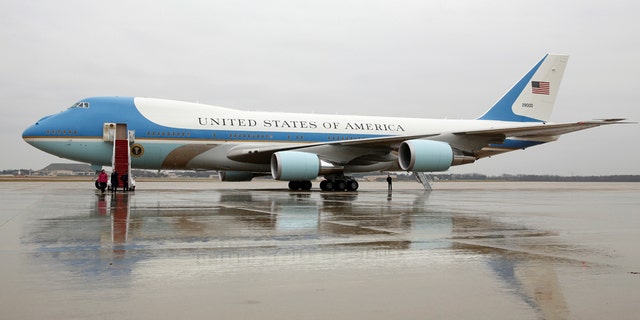 The president reportedly wants the jets to be outfitted in a color scheme that "looks more American" and replace the iconic robin's egg blue declared a "Jackie Kennedy color." Technically termed "luminous ultramarine", the plane's current design was selected by President John F. Kennedy and First Lady Jackie Kennedy in the 1960s, Axios reports.
Trump's preferred color scheme would incorporate red, white and blue. In addition, the commander in chief is said to want bigger, more comfortable beds, like those of his personal Boeing 757, in favor of what Axios describes as the current "couch-like sleeping configuration" aboard Air Force One.
Wish lists aside, the outlet notes that Trump may only get to enjoy a ride aboard his dream jet if he makes it into a second term, reporting that the new pair of 747s are "very unlikely" to be ready before Jan. 20, 2021.
FOLLOW US ON FACEBOOK FOR MORE FOX LIFESTYLE NEWS